BURT 704
HORIZONTAL ROLL-THROUGH LABELER.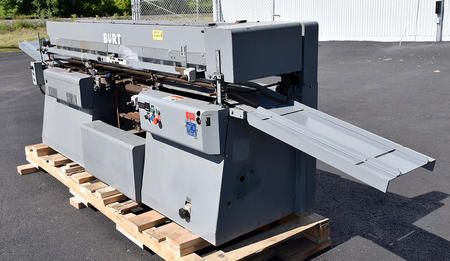 A Pneumatic Scale Angelus Burt model 704DG roll-thru labeling machine manufacturer recommended apply full-wrap labels to cylindrical containers of virtually any material at speeds up to 800 cpm...
Manufacturer rates for container diameter 1.75 inch (45mm) to 7.25 inch (184 mm) / can diameter from 112 to 704, and container height from 1.56 inches (40mm) to 10.5 inches (267mm) / can height up to 108 to 1008.


Crank adjustable for container size (requires changes in trasfer belt setups to run low end of range of rated range).


Manufacturer rates label lengths from 4.63 inches (117mm) to 24 inches (610mm) and label width from 1.5 inches (38mm) to 9.25 inches (235mm). Label bed change parts required to run full rated label range. Call 315-589-4511 to discuss YOUR particular labeling specifications for more details.


Manufacturer literature specifies this model as able to apply a broad range of labeling materials including papers, foils, plastics and laminates, onto tin, composite, glass or plastic containers, for maximum flexibility. Different transfer belt configurations required for different container characteristics and sizes (e.g. "low can).


This machine comes with V-belt transfer-belts for positive container control running cans or jars.


Hydraulic label feed system smoothly and accurately positions labels.


Hot melt label pickup with cold glue lap paste, for reliable, secure application and neat appearance.


Left to right container flow direction from operators position.


208/230 volt 3 phase electrical input



Previously labeled #10 (603 x 700) cans.

As of this writing, this Burt labeler machine is in stock at Alard, in very good operational, mechanical, electrical, hydraulic and glue system condition, available for immediate shipment.

CALL 315-589-4511 to confirm availability, and to discuss your particular food packating label application equipment need.

Alard item reference #:Y3877