Food grade
VACUUM DEWATERING CONVEYOR
stainless steel...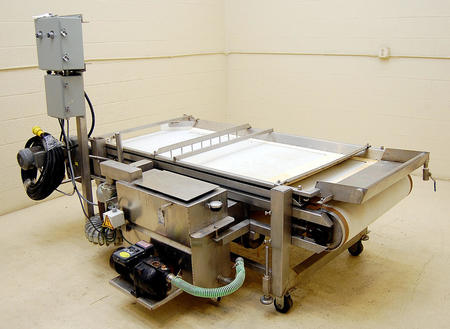 A Limas single pass dryer belt with vacuum system and water collection
tank, stainless steel, with rinsing infeed...
FEATURING:


32 inch wide by 72 inch long fine mesh plastic conveyor belt with stainless steel end pulleys.


10.5 inch long stainless steel infeed pan with overhead spray bar rinser, for applying sanitizing or preservative solution, or just a quick rinse.


The mesh belt conveyor runs between 3.5 inch sides.


Equipped with a Venture Model SD-600 vacuum system to draw moisture through the mesh belting.


Water drawn off the product and through the dewatering belt is collected in an 11 inch by 24 inch by 20 inch deep liquid catch tank which includes a gasketed lid & sump pump.


Food grade sanitary stainless steel construction.


This portable vacuum belt drying conveyor is mounted on a tubular stainless steel support stand on rolling casters, with threaded rod adjustable height feet.


Variable Frequency Drive (VFD) variable speed belt speed control.


3 phase fractional HP gearmotor conveyor drive and 3 phase vacuum blower drive.


Single phase "sump pump" removes water from the dewatering / water catch tank.


PVC electrical control boxes with on/off switches for conveyor and fan.



208 / 230 volt 3 phase electrical input.

As of this writing, this vacuum dryer belt is in stock at ALARD, in GOOD condition, available for timely shipment.

CALL 315-589-4511 for current availability, and to discuss your particular food PROCESS drying and dewatering needs.

ALARD item reference #: Y2510