MUELLER FALLING FILM CHILLER 3x5 WITH FREON REFRIGERATION SYSTEM...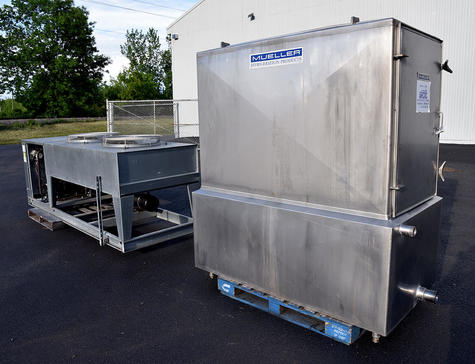 A Paul Mueller dairy grade sanitary USDA 3A sanitary stainless steel falling film plate chiller for rapid cooling of of milk, juice, drinking or food
processing water, and other potable liquids; coupled with a freon refrigeration compressor.


FEATURING:
Paul Mueller Model 165 FFC 3x5 falling film chiller, all stainless steel with USDA 3A food grade sanitary stainless steel product contacts and construction.


Originally designed & equipped with three (3) chill plates, but the cabinet has room for up to eight (8) plates.

The stainless steel chill plates measure 36 inch high by 60 inch long and are rated for 250 psi.

Fully enclosed falling film cascade chamber, with hinged front & roof access doors, to eliminate product contamination.

3 inch Tri-clamp inlet with top mounted drizzle pan distributing liquids evenly over the plates in a laminar flow.

Insulated bottom tank with 3 inch Tri-clamp outlet.

Easy to clean & inspect with virtually no downtime for maintenance.



Copeland model 2DA3-0750TFD200 refrigeration system with...

R22 Freon coolant.

Dual ventilation / cooling fans.

Galvanized steel cabinet, outdoor installation compatible.

Integral electrical control box.

460 volt 3 phase electrical input.
As of this writing, this Mueller falling film plate chiller system is in stock at ALARD, in GOOD mechanical & cosmetic condition, available for timely shipment.

CALL 315-589-4511 for current availability, and to discuss your particular food process liquid cooling needs.

ALARD item reference #: Y3641