INDUSTRIAL VACUUM FOOD MIXER-BLENDER



40 cubic foot, twin ribbon, all stainless steel...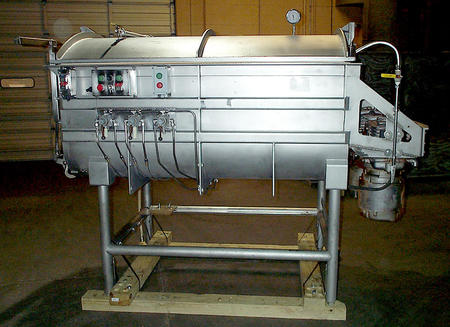 A 2000 pound capacity vacuum ribbon blender with end bottom discharge doors for mixing / blending solids. This heavy duty stainless steel ribbon mixer-blender is configured for vacuum mixing so as to prevent product oxidation to maintain the quality and color of sensitive food products such as meats; as well as to assist in the absorbtion of salt, spices, and/or marinates in the blending process.

VACUUM BLENDER FEATURES:


40 cubic foot (2000 lbs) capacity horizontal batch mixer with a double-u shaped bottom.


Mixing vessel measures 6 feet long by 45 inches wide by 32 inches deep.


Food grade stainless steel construction with heavy duty 0.5 inch thick side walls.


The agitators have 2 inch wide by 3/8 inch thick ribbons mounted on 3 inch shafts with 3/4 inch spokes.


Gasketed / sealed heavy stainless steel lid with dual pneumatic cylinder power lift.


Dual 13.5 inch wide by 7.5 inch high opening bottom end discharges with gasketed "spade shaped" pneumatic discharge doors.


Independent pneumatic cylinders control left discharge, right discharge & lid lift.


Lid and doors are gasketed/sealed and this blending machine was otherwise designed and built for blending under vacuum, (vacuum pump not included).


64 inch infeed height, 32 inch discharge height, on stainless steel legs.


Each of the agitator shafts is powered by SEW Eurodrive helical-bevel drive with a 7.5 HP motor; each 460 volt 3 phase electrical input.


As of this writing, this twin shaft ribbon vacuum mixer is in stock at ALARD, in GOOD condition, available for immediate shipment.

CALL 315-589-4511 for current availability, and to discuss your particular industrial food process mixing and blending needs.

ALARD item reference #: Y3719