ROLLER BED INSPECTION CONVEYOR, food grade stainless steel...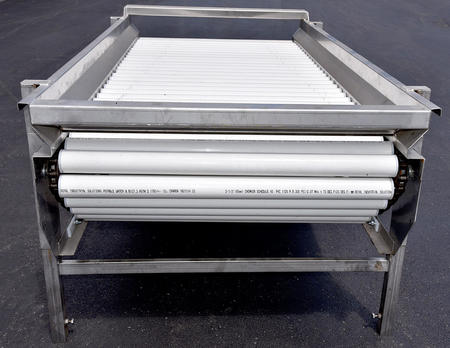 A ROLLER CONVEYOR for sorting, grading, apples, potatoes, onions, tomatoes, peppers, mushrooms as well as other assorted fruits & vegetables of a size and capacity for industrial food processing, food packaging operations. This visual inspection conveyor works to spin and rotate fruits and vegetables as they pass over the rollers, so that these food products can be viewed from all angles, so that spotted, blemished, bruised, or unpeeled products can be picked out and trimmed, separated, or discarded.

FEATURING:
42 inch wide by 96 inch long roller inspection conveyor.


2 7/8 inch diameter PVC rolls with 3/8 inch openings between.


Heavy duty steel chain and sprocket drive.


35 inch working height.


Food grade stainless steel frame roller inspection line.



110/220 volt single phase 3/4 HP motor (in pictures the motor is not installed but is in a visible cardboard box under the roller bed) with gear reducer.

As of this writing, this roller inspection table is in stock at ALARD,in very good condition, available for timely shipment.

CALL 315-589-4511 to confirm availability, and to discuss your indistrial food process inspection, grading, and/or sorting needs.

Alard item reference #: Y3806