Nieco AUTOMATIC BROILER, model N2500
high-capacity, continuous belt, flow-through...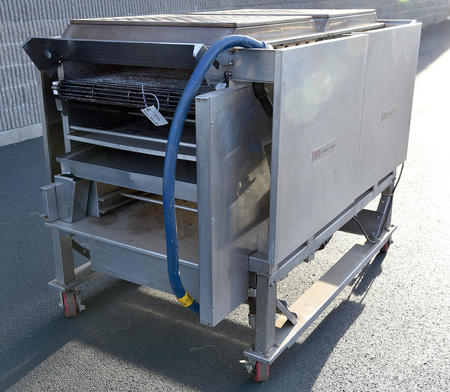 Nieco Model 2500 gas-fired flow-through AUTOMATIC BROILER. This continuous belt broiler is manufacturer recommended for delivering consistent flame broiled taste & color to a variety of meat and vegetable food products including hamburgers (fresh or frozen), chicken breasts, and seafood. With a 5 foot long by continuous belt-transfer conveyor, this food broiler is advertised as Nieco's highest capacity flame broiling machine.
Features:
28 inch wide by 9 inch long wire mesh infeed belt.


28 inch wide by 60 inch long rod bed broiler chain conveyor with 3/8 inch openings between the rods.


Bottom burners active during first half of cook cycle with top burners on for second half.


Natural Gas fired with a 1 inch NPT gas line connection.


Digital controls for burner and belt speed.


45 inch working height.


Removable grease drip pans.


Easy to operate, clean & maintain.


A perfect fit for for industrial food processors, commissaries, very high volume restaurants, amusement parks; whether fast food, institutional or gastro-pub.


Food grade sanitary stainless steel construction.


110 volt single phase (standard household current) electrical input.


Late model, new 2016.


INCLUDES: extra burner and spare broiler conveyor chain.

As of this writing, this automatic flame broiler is in stock at ALARD, in good condition, including a spare burner and new belt, available for timely shipment.

CALL 315-589-4511 to confirm availability, and to discuss your particular flame broiler need.

ALARD item reference #: Y3904