SPRAY DYNAMICS TWO-STAGE COATING SYSTEM...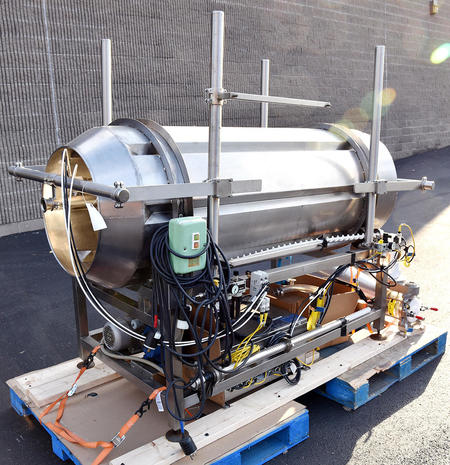 A Spray Dynamics Soft Flight coating drum with Micro-Meter 1 airless liquid applicator, and Uni-Spense dry ingredient distributor, manufacturer recommended for the uniform application of liquid and dry coatings on extruded, baked, frozen and fried products.

FEATURING:
A 28 inch diameter by 77 inch long stainless steel seasoning drum with (8) 2-inch high soft flights for gentle mixing action.


Uni-Spense Dry Ingredient Distributor with "Bridge-Buster" stainless steel dry spice supply hopper with (2) positive displacement plastic seasoning delivery augers, and a dry spice distribution tube with adjustable teardrop openings for a precise metered supply of dry seaonings.


Micro-Meter Liquid Applicator System, with (2) liquid seasoning application spray heads mounted inside the seasoning drum.


All food grade stainless steel construction.


Complete with stainless control box with Allen-Bradley Panelview 400 PLC controller.


110 volt single phase (standard household current) electrical input.


This tumble mixer configuration is widely used for applying seasonings, spices, and flavorings, in dry powdered form and / or liquid form with a to a wide variety of snack foods, such as potato chips and other snack chips, crackers, nuts, snack mixes, popcorn, coffee beans, petfoods / pet snacks, cereals, seeds, and even cheese snacks.


As of this writing, this Spray Dynamics coating drum with dry and liquid ingredient feeders is in stock in VERY good condition, available for timely shipment.

CALL 315-589-4511 to confirm availability, and to discuss your particular food equipment needs.

Alard item reference #:Y3929