HIGH SHEER BATCH MIXER,
food grade stainless steel,
on portable stand, 5HP...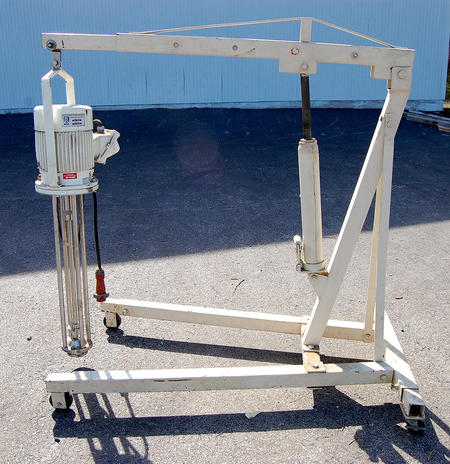 A Ross Industrial Mixers Series 100 batch high shear mixer, by Charles Ross & Sons Company. This Ross Model ME-105 high-shear production mixer consists of a single four-blade rotor that turns at high speed within a stationary stator. This rotor-stator mixer is manufacturer recommended for applications that require fast particle size and/or droplet reduction, such as homogenization, solids size reduction, and emulsification

OPERATION:

As the rotating blades pass each opening in the stator, they mechanically shear particles & droplets, and expel material at high velocity into the surrounding mix, creating intense hydraulic shear. As quickly as material is expelled, more is drawn into the bottom of the rotor/stator generator, which promotes continuous flow & fast mixing...


FEATURES:
31 inch long agitator shaft, surrounded by four stabilizer shafts which hold the high-shear stator housing.


3.5 inch diameter four (4) blade main rotor.


Height adjustable 3 inch diameter six (6) blade auxillary prop located on shaft above the main rotor.


Powered by 5 HP 3480 RPM motor.


Food grade stainless steel construction wetted parts / product contacts.


208/230/460 volt 3 phase electrical input.



Mounted on a painted mild steel manual hydraulic jack lift hoist with 4 inch casters, offering the flexibility to use a single mixer in multiple vessels, and allows user to vary the position of stator to process different materials & batch sizes.

As of this writing, this high shear mixer is in stock at ALARD, in EXCELLENT condition, available for timely shipment.

CALL 315-589-4511 to confirm availability and discuss your particular industrial food process high shear mixer need.

ALARD item reference #: Y3051