PULL-BACK CONVEYOR, RECIPROCATOR /
SHUTTLE CONVEYOR, Bridge SCA...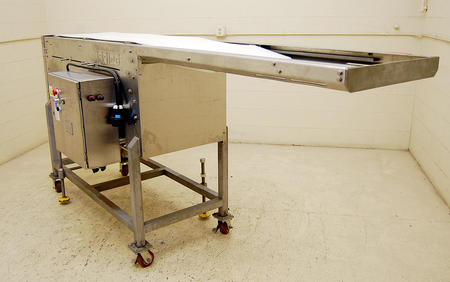 Frequently used as an oven or freezer feed belt, the Bridge Model SCA 18/42 spreading conveyor will transfer / load meats, pastas, and other uniformly-shaped food products by distributing them across another perpindicularly oriented belt, so as to gain denser belt loading. Useful for feeding breader-batterer machines, belt freezers, cooker belts, tray loading, and other applications where close product placement is more efficient and desirable.

Efficiency is maximized by the high speed reciprocating action of the Bridge SCA feeder belt, which by a short, gentle product drop, loads belts or trays with product closely and completely. Freezers, ovens, cookers or other processing equipment will operate more economically and efficiently, with maximum product density and belt coverage. The high speed shuttle conveyor model SCA is manufacturer recommended to handle a wide variety of products, from patties and meatballs to ravioli.

FEATURES:
18 inch wide by 9 feet extended belt length with plastic interlocking belt.


Pneumatic powered continuous shuttling belt pull back action.


52 inch working height on tubular stainless steel frame with 4 inch casters; with threaded rod stabilization posts.


Lube cluster.


Food grade, USDA sanitary stainless steel construction.


Factory original stainless steel electrical box with VFD variable speed belt drive controller, pneumatic controls, and start / stop, stop, and lockout controls. Safety stop buttons on both sides of machine.



460 volt 3 phase electrical input, compressed air also required.

As of this writing, this reciprocating product distribution conveyor is in stock at ALARD, in VERY GOOD condition, available for immediate shipment.

CALL 315-589-4511 to confirm availability and discuss your food handling needs.

ALARD item reference #: Y3695