FLOATATION WASHER
with DESTONER & DEWATERING SCREENS...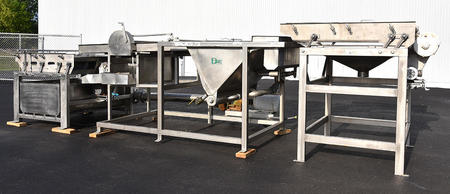 Offering a combination of floatation as well as destoning, the Olney Model GP WASHER/DESTONER is manufacturer recommended for the elimination of light trash such as skins, hulls, leaves, pods/sticks and dirt; as well as heavy impurities including stones, mud balls, sand, dirt & glass; on a variety of products from nuts, shrimp, clams, kernel corn & blueberries to dry beans and/or rehydrated / soaked beans; including kidney, black, pinto, garbanzo, navy, lentils, chick peas, black-eyed peas, etc. Floatation cleaning is more efficient with rehydration.


FEATURING:
Manufacturer rated for 5000 lbs. (2267 kg) per hour on dry beans and 10,000 lbs per hour on rehydrated beans.



Infeed dewatering shaker:

71 inch infeed height.

54 inch wide by 56 inch long bed.

1/8 inch flat rod with 1/16 inch sieves.

Rods run perpendicular to flow.

Ajax eccentric drive.

6 inch center bottom outlet drain.



Floatation Wash Tank:

45 inch long.

"Floater" overflow such that floaters are moved down and deposited on lower level screen of discharge shaker.



Riffle Board:

60 inch long.

Manual lever which will lift/tilt riffles and flush debris to catch tray.



Discharge Dewatering Shaker:


Dual Deck.

54 inch wide by 56 inch long.

1/8 inch flat rod with 1/16 inch sieves (top screen) and 3/32 inch perforations (bottom screen).

Top screen is for good product while bottom screen handles floaters & waste.

Ajax eccentric drive.

47 inch discharge height.



15HP Crane/Deming Model 5M cast iron 10 inch recirculating pump.


All sanitary food grade stainless steel construction.



230/460 volt 3 phase electrical input.
As of this writing, this Olney Model GP Floatation Washer with stone removal is in stock at ALARD, in GOOD operational, mechanical & cosmetic condition, available for immediate shipment.
CALL 315-589-4511 to confirm availability, and to discuss your food processing needs.


ALARD item reference #: Y3837