CONTINUOUS BAND BAG SEALER,
sanitary, stainless steel, Doboy B-450M.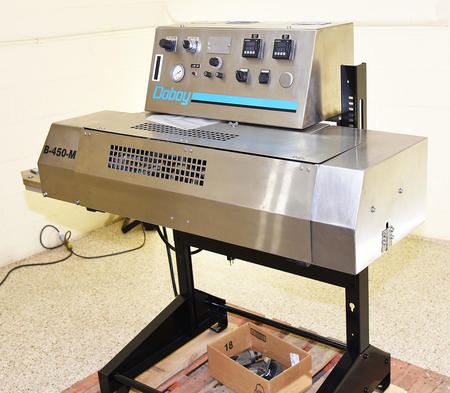 A Doboy Model B-450M food and medical grade sanitary continuous band bag sealer manufacturer designed to meet the medical packaging industry validation requirements for sanitary and sterile applications. Manufacturer rated for sealing bags and pouches with a secure hermetic seal using a variety of materials, including polyethylene, foils, paper/polyeter and Tyvec / Mylar films.


FEATURING:

Left to Right product flow.


Front & back seal-bar digital temperature adjustment to 450 degrees Fahrenheit.


Teflon carrier band.


Variable speed control for 300-500 inches per minute.


Food grade sanitary / medical grade sanitary stainless steel enclosure and operator panel.


Up to 38 inch working height, hand crank adjustable, painted steel stand.



110 volt single phase (standard household current) electrical input.

As of this writing, this Doboy Band Sealer is in stock at ALARD, in EXCELLENT operational, mechanical, electrical, pneumatic and cosmetic condition, available for immediate shipment.

CALL 315-589-4511 to confirm availability, and to discuss your particular food packaging needs.

ALARD Item Reference #: Y3876