VEGETABLE TOPPER-TAILER,




increment cutter, length slicer,


for lettuce, celery, carrots...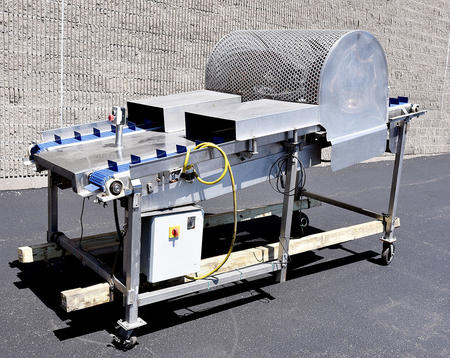 A high capacity industrial scale top and tail cutting machine for pre-cut produce / fresh-cut vegetable processing and packaging operations. Last used as a ROMAINE LETTUCE TRIMMER: This dual / two-lane elongated vegetable trimming machine could work for cutting the top and tail ends off similar products e.g. as a celery stalk trimmer, carrot trimmer, to top and tail similar long lettuces such as frisee, escarole, and cos, or to length slice bunches of other leafy green vegetables.




FEATURES:
Two (2) individual cutting lanes allow simultaneous feeding from each side.

Each top and tail trimming lane is outfitted with a 6 inch wide by 10 foot long cleated plastic transfer belt with 2 inch high flights on 5 3/8 inch centers.



Each transfer belt carries the product between (2) 20 inch diameter disc blades, which are adjustable from a 7 inch to 9 inch length cut.


Food grade stainless steel machine, with steel cutting disc knives.


The cutting area and blades are fully safety shrouded with stainless steel guards.


Center mounted operator start/stop switch.


36 inch infeed height.


50 inch discharge height.


All food grade stainless steel construction.


230/460 volt 3 phase electrical input.


As of this writing, this industrial capacity long vegetable top and tail cutter is in stock at ALARD, in very good condition, available for immediate shipment.

ALARD item reference #: Y3895