CONTINUOUS POUCH COOLER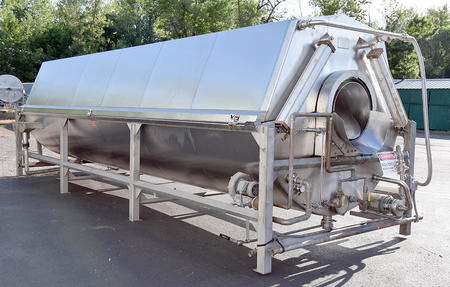 A Lyco Model 8700 specifically engineered as a bag / pouch cooler. Submerged water cooling is the most efficient & economical method of cooling volumes of food products, and the agitation and movement of the pouches as they pass through the cooling reel only adds to this efficiency.
Manufacturer literature recommends for sous vide pouches ranging from small packs of restaurant ketchup up to 5 or 10 pound bulk food service sizes; running products not limited to but including sauces, soups, chowders & pet foods...




OPERATION:

Product enters the cylinder through an open throat, water-cushioned entry design that keeps pouches safely handled while being cooled. As they proceed through the rotary drum cylinder, the pouches are totally submerged in water, then gently stirred using Lyco's proprietary Hydro-Flow technology. This Lyco Hydro-Flow agitation keeps pouches suspended in motion which cools 40% faster than sitting statically on a belt conveyor. This method ensures product is quickly cooled all the way through to the center of the package.


FEATURING:

72 inch diameter by 24 feet long cooling reel.


Removable 3/8 inch perforated screen.


24 inch diameter open throat infeed.


Cushioned entry design ensures pouches are safely handled while being cooled.


Gentle "Hydro-Flow" water agitation keeps pouches suspended in motion which decreases cooling time.


Two way pivoting top cover with pneumatic cylinder power lift.


Built in CIP system including centrifugal pump for sanitation.


USDA sanitary stainless steel construction.


230/460 volt 3 phase electrical input.



INCLUDES Chester Jensen Plate Chiller and RP Products LP Series Bag Water Filter.

As of this writing, this Lyco Pouch Cooler is in stock at ALARD, in very good condition, being sold AS-IS and available for immediate shipment.

CALL 315-589-4511 to confirm availability, and to discuss your industrial food process cooking and cooling equipment needs.

ALARD item reference #: Y3930