Rietz Thermascrew STEAM BLANCHER,
Model TL-30-K2220, all stainless steel...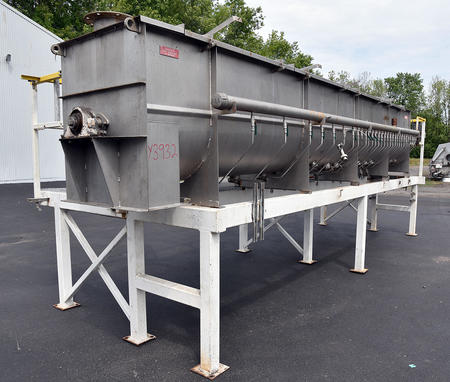 A food grade stainless steel Reitz-Bepex Model TL30-K2220 OPEN SCREW BLANCHER / live steam cooker, 30x20 for industrial food process fruit and vegetable blanching, and / or cooking by steam.


FEATURES:


30 inch diameter by 20 foot long open screw for controlled, consistent product blanch / cook time.


The screw auger has 9 5/8 inch high flights as measured from the center hub; the flights are 12 inch pitch (12 inches from flight to the next).


Has thirty (30) live steam injection ports/diffusers along the bottom of the bottom trough.


Four (4) hinged top covers with support props.


12 inch by 30 inch flanged bottom end discharge.


8 inch flanged steam / vapor vent over discharge end.


Food grade sanitary stainless steel construction.


Bolted-on 4 foot wide by 21 foot long painted steel riser stand with galvanized steel tread operator catwalk / work platform (can be removed if buyer doesn't want it shipped); --this riser frame places the scalder at an 8 foot infeed height and 4 foot discharge height.


2 HP 230/460 volt 3 phase mechanical variable speed drive.


As of this writing, this Rietz industrial food process steam blancher is in stock at ALARD, in good condition, available for timely shipment.


CALL 315-589-4511 to confirm availability, and to discuss your particular commercial-scale fruit and vegetable steam cooker equipment needs.


Alard item reference #: Y3932