Safeline FOOD METAL DETECTOR
with BELT CONVEYOR, push-off reject.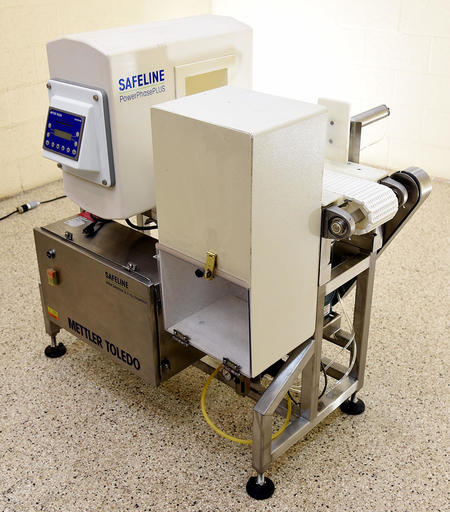 A refurbished Safeline PowerPhase Plus metal detector for food product metal detection and other related industrial production applications, complete with integrated belt transfer thru-conveyor with pneumatic cylinder pushoff reject...

FEATURING:
8.5 inch high by 6.75 inch wide USABLE aperture opening dimensions with the conveyor belt in place (9.75 inch overall aperture height).


Epoxy painted aluminum search head with integral digital touch pad controls.


Mounted on a stainless steel transfer thru conveyor frame with 5 inch wide by 68 inch long food grade plastic interlocking chain type belt.


37 inch working height with left to right flow from perspective of operator control position.


Pneumatic cylinder reject system -- when metal contamination is detected, the air powered plunger will push product into a 12 inch wide by 10 inch long by 24 inch deep catch box with lockable door.


110 volt single phase (standard household current) electrical input.


As of this writing, this refurbished Safeline conveyorized metal detection system is in stock at ALARD, in EXCELLENT operational, electrical, mechanical & cosmetic condition, available for immediate shipment.


CALL 315-589-4511 for availability and to further discuss your food safety needs.

ALARD item reference #: Y3961