FITZPATRICK INDUSTRIAL IMPACT MILL, 6 inch, 7.5HP...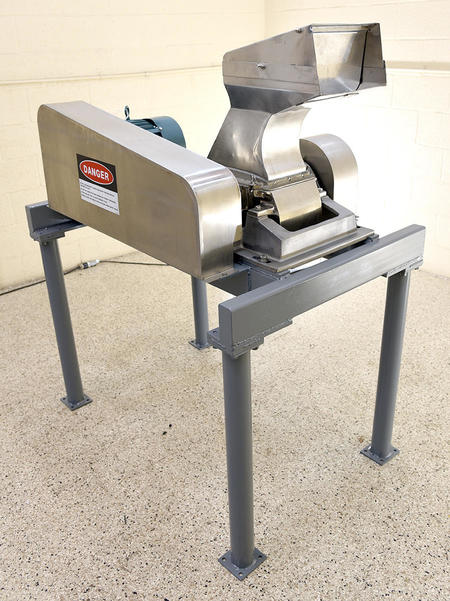 A reconditioned Fitzmill Model DAS06 comminutor hammer-mill cutter-grinder with food grade stainless steel product contacts, and a 7.5HP motor drive; for controlled particle size reduction in the context of industrial processing of food, chemical and other bulk material cutting, grinding and milling applications.
OPERATION:

Hammer mills rely on the simple principle that most solid materials shatter or shred upon suitably vigorous impact. In essence, hammer mills excel at cutting, grinding and crushing. In most instances, industrial hammer mills harness gravity to carry raw materials into a hopper, where a rapidly spinning rotor allows hammers and/or knives to strike the raw materials repeatedly, pulverizing or cutting them to a relatively uniform consistency. Through the application of mechanical impact forces -- in the form of multiple knife cuts or hammer blows -- bulky raw materials are transformed into uniform particles. Hammer mill grinders provide a quick, efficient method to size reduce raw materials and achieve a uniformed processed product.

APPLICATIONS:

Manufacturer literature recommends the Fitzpatrick DAS06 model for:
Coarse grinding and chopping of dry material


Size reduction of wet material


De-lumping of agglomerated wet and dry materials / lump breaking / lump breaker


Pulverizing / pulverizer

Solid / liquid blending


Granulating compacted materials


Processing slurries and liquids


Processing and conditioning wet and dry materials



Pureeing and emulsifying

FEATURING:


Stainless steel infeed pan with dust-flap cover.




6 inch by 10 inch cutting / milling / comminution chamber, with horizontal shaft fitted with sixteen (16) stainless steel fixed blades/hammers -- sharp on one side & broached on opposing side (other configurations available optionally, call 315-589-4511 to discuss your cutting specifications), over an interchangeable sizing screen.


Screen perforation shape and size determine particle size reduction.


61 inch infeed height. 31 inch discharge height.


Food grade stainless steel product contact surfaces.


Painted steel frame and legs.



5 HP 230/460 volt 3 phase drive with stainless steel belt guards.

As of this writing, this refurbished Fitzpatrick Fitzmill comminuting machine is in stock at ALARD, in EXCELLENT operational, mechanical and cosmetic condition, available for immediate shipment.

CALL 315-589-4511 to confirm availability and discuss your food processing needs.

ALARD item reference #: Y4012