30 gallon
SELF-CONTAINED ELECTRIC KETTLE,
food grade stainless steel...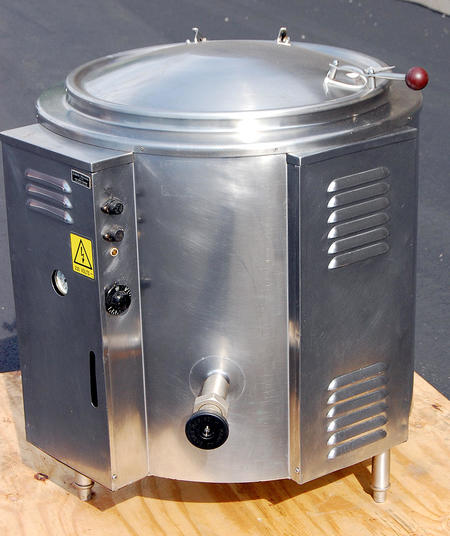 A GROEN Model EE30 30 gallon self contained electric stainless steel cooking kettle, with valve...


FEATURING:


24 inch diameter by 20 inch deep hemispherical bottom vessel, with a 1.5 inch front bottom outlet and manual draw off valve.


Steam jacket manufacturer tagged for 30 psi, "U" stamped and National Board coded, with self-contained / integral electric heater powered by 230 volt 3 phase electrical input, complete with precise thermostatic control.


34 inch infeed height, 12 inch discharge height.


Energy SAVING hinged stainless steel top cover with lift handle.


Tripod configured 6 inch high bullet feet.



Shop tested and serviced with new pop-off & fill valves.

As of this writing, this self-contained electric kettle is in stock at ALARD, in EXCELLENT operational, electrical, mechanical and cosmetic condition; available for immediate shipment.

CALL 315-589-4511 to confirm availability, and to discuss the details of your particular food processing equipment needs.

ALARD item reference #: Y3580