WAUKESHA PUMP, model 30,
USDA 3A sanitary lobe pump
with drive and base...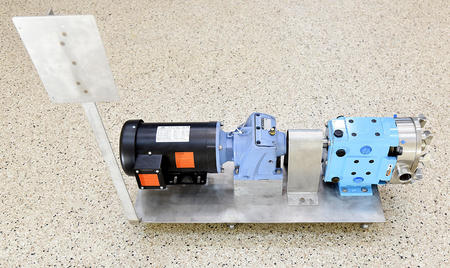 A Waukesha Cherry-Burrell Universal 1 series model 30 sanitary positive displacement lobe pump, manufacturer recommended for pumping viscous liquids in industrial food, canning, dairy, canning, bakery, beverage & pharmaceutical applications...

FEATURES:
1.5 inch water inlet and discharge ports with sanitary Tri-clamp connections in a horizontal flow orientation.


Manufacturer rated normal capacity of up to 36 gallons per minute though put (depending on product viscosity and head pressure) and 200 psi maximum pressure.


Jacketed head with 1/4 inch threaded ports for heating or cooling media, e.g. for water cooling.


This PD pump in like new condition with no visible scoring, wear or pitting of the inside cover, impellers, or back plate, and has very close tolerances. It's so new and tight, we recommend it for ambient or low temperature products, though presumably the jacketed head can be used to ameliorate the tendency for hot products to swell and bind the impellers.


Currently configured for 356 RPM for a calculated output of approximately 21.9 gallons per minute.


USDA / 3A sanitary food grade pump with a T316 stainless steel body, cover and shaft.


Easily disassembled for cleaning & sanitation.


Mounted on stainless steel base.


New 1760 RPM motor, new gear reducer.



230/460 volt 3 phase electrical input.

As of this writing, this Waukesha 30 lobe pump is in stock at ALARD, in LIKEN NEW condition, available for immediate shipment.

CALL 315-589-4511 to confirm availability and discuss your food processing needs.

ALARD item reference #: Y3812