HEAT INDUCTION SEALER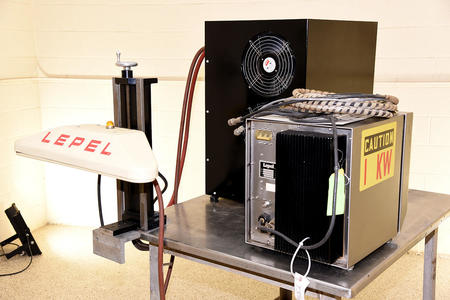 A Lepel HEAT INDUCTION CAP SEALER for in-line, non-contact, heat induction, tamper evident sealing of food & beverage containers...


Lepel HEAT INDUCTION SEALER, Y3921
from Alard Equipment Corporation.

FEATURING:
Water cooled Lepel UniSeal heat induction sealing head, 27 inches long.


Two (2) control units included:



TR-1000A 1.2 KVA control unit with 110 volt single phase (standard household current) electrical input & stainless steel cabinet. We prefer stainless steel and have test run the system extensively with this controller to verify good operational condition.


TR-2000 2.4 KVA controller, with 230 volt 3 phase electrical input & painted steel enclosure, which we've plugged in and run and seems to be in good working condition, though we haven't spent a lot of time on it, as we are "throwing this in" as an extra controller at no additional cost.



1/4 HP 112/220 volt single phase water cooling unit with pump.

As of this writing, this Lepel heat induction sealing machine is in stock at ALARD, in VERY good operational, mechanical and cosmetic condition, available for timely shipment.

CALL 315-589-4511 to confirm availability, and to discuss your particular food packaging needs.

Alard item reference #: Y3921