DRUM DUMPER / BARREL DUMPER,
Hydraulic Power included...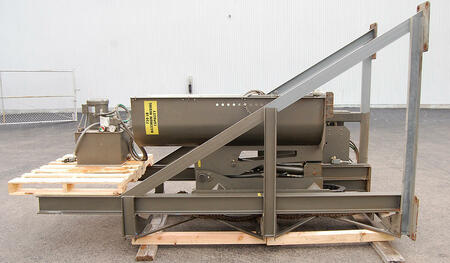 The National Bulk Equipment Model 2L2-SS barrel dumper / bin dumper is an open container discharger for unloading non-dust generating foods including herbs, spices, purees, pastes, vegetables, fruits or other bulk materials from 55 gallon drums or a multitude of other barrel sizes...


FEATURES:


750 lb. lifting capacity


Approximately 130 inch maximum lift height.


Accommodates standard 55-gallon drums approximately 23 inch diameter from 28.5 inch to 38.5 inches tall.


Hydraulic power pack system included, with 5HP hydraulic pump, and reservoir.


Frame mounted control panel.


Painted steel construction.



Gasketed PVC operator control box with on/off, dump, return, emergency stop, and safety lockout switches.

As of this writing, this barrel dumper is in stock at ALARD, in very GOOD condition, available for timely shipment.


CALL 315-589-4511 to confirm availability and discuss your product handling need.


ALARD item reference #: Y2817