DEWATERING SHAKER-GRADER,
vibrating feeder, food grade, all stainless steel...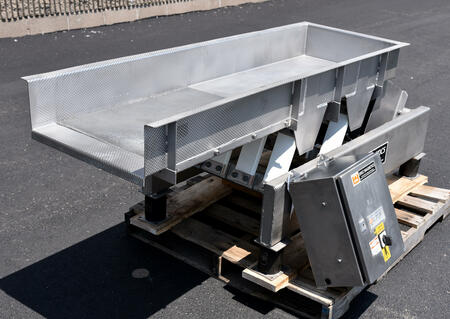 An Eriez Magnetics vibratory shaker screen with Eriez "Hi-Vi" magnetic drive circuit, interchangeable screen section for grading, size sorting, fines-removal, sliver removal, solids separation, dewatering, and even-feeding to downstream components...

FEATURES:
19 inch wide by 60 inch long vibratory feeder bed.



Rigidized / dimpled surface stick-resistant stainless steel bed and sides.


32.5 inch long solid dimpled infeed section.


24 inch long interchangeable (bolt-in) screen with 1/8 diameter perforations.


3.5 inch dimpled discharge.


6 inch high rigidized surface sides.


Catch pan with a 2.75 inch center bottom outlet.


All food grade sanitary stainless steel construction.


Mounted on plastic vibration slats over a stainless steel frame.


27.5 inch working height as currently configured on rubber isolation mount feet for extra smooth operation.


All food grade sanitary stainless steel vibrating conveyor, with stainless steel support frame.


Wall mount NEMA-4 control panel with ON/OFF switch.



110 volt single phase (household current) electrical input.

As of this writing, this vibrating shaker-grader is in stock at ALARD, in EXCELLENT operational, mechanical, electrical, and cosmetic, available for immediate shipment.

CALL 315-589-4511 to current availability and to discuss your industrial food process grading and solids separation needs.

ALARD item reference #: Y3907