URSCHEL Model OV cross-cut transverse SLICER,
for elongated food products...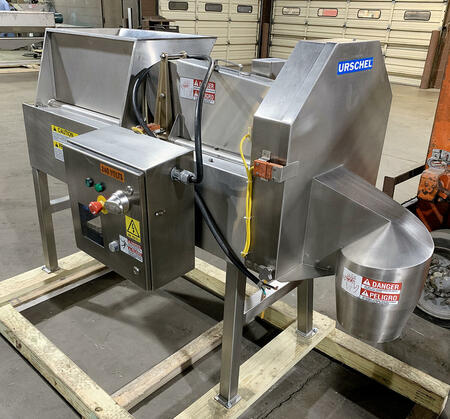 Manufacturer rated for producing flat or crinkle cut crosscut slices, aka "coin cuts", from elongated food products such as carrots, celery, cucumbers (pickles), peppers, squash, bananas, pepperoni, leeks, etc.


SPECIFICATIONS:


Cutting wheels (change part) available for precise, tons-per-hour industrial fruit and vegetable slicing in thicknesses slices from 1/16 (1.6mm) of an inch up to " to 1 1/3 inch (34mm). Call 315-589-4511 to discuss your particular cutting requirement.


Rated for products no more than 2.75 inches (70mm) in diameter or width.



Flat or krinkle cut blades and shear edges are available for corrugated or flat slices.



One slice is made at a time, which prevents crushing or distortion of the product.



An average sized pickle goes through this machine in 1/30 of a second, and is uniformly sliced by knives moving at 95 feet per second. This high speed causes clean slices to be produced, even as the knives lose their sharpness.



The machine is not recommended for slicing sticky products, or products with a very high concentration of sugar.


FEATURES:


V-trough belt aligns and centers products for uniform cross cut slicing.




Standard "floppy belt" product hold down mechanism for positive product alignment and stability.



Spiral discharge chute gently decelerates the cut slices.



Food grade USDA sanitary stainless steel construction including frame.



Factory control panel with safety interlock system. 2 HP 208/230 volt 3 phase brakemotor drive.


As of this writing, this Urschel model OV slicing machine is in stock at Alard in EXCELLENT operational, mechanical, electrical, and cosmetic condition, available for immediate shipment.

CALL 315-589-4511 to confirm availability, and to discuss your particular industrial fruit and vegetable slicing specification.

Alard item reference: Y4164