SPLIT NUT "BLANCHER",
Cantrell Model 341B,
peanut cleaner, separator....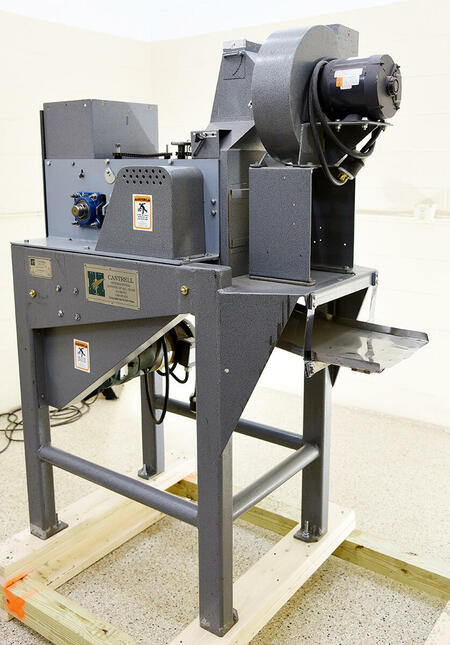 A CANTRELL Model 341-B Peanut "Blancher", for splitting peanuts, separating and saving peanut hearts, and cleaning peanuts of skins & trash; from dried or fully roasted peanuts. Manufacturer recommends for yielding the smoothest, cleanest nuts possible for peanut butter, candy and similar products with maximum efficiency...


FEATURING:

Peanut grader / cleaner / separator - Separates and saves split peanuts and hearts, discharging them separated from each other; while removing skins, ferrous tramp metals, and trash.



Manufacturer rated for up to 2,000 pounds / 1 ton per hour capacity.


FDA approved rubber blanching elements remove skins without excessive rubbing or brushing.


6 inch diameter stainless steel infeed at 65 inches high with rotary magnetic separator to protect blanching elements and finished product from damage caused by foreign ferrous material.


1.5HP adjustable blanching belt control ensures effective blanching of all nut sizes.


Fractional HP air cleaner fan (removes skins and light trash).


Manually adjustable primary and secondary separation valves.


14 inch wide by 48 inch long solid, stainless steel vibrator shaker tray for hearts separation and fines removal.


All steel support frame and shrouding.



230/460 volt 3 phase electrical input.

As of this writing, this nut blancher is in stock at ALARD, in excellent operational condition, available for timely shipment.

CALL 315-589-4511 to confirm availability and discuss your nut processing needs.

ALARD item reference #: Y4152