RIETZ EXTRUCTOR Model RE-15,
food grade sanitary frozen block grinder
with block lift...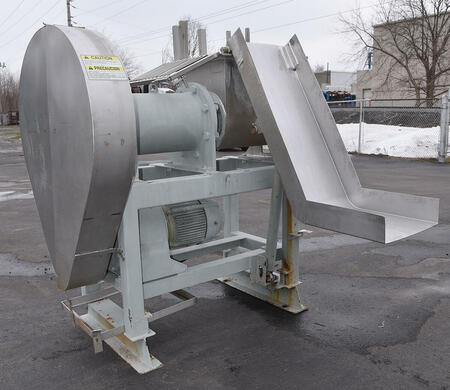 A Rietz Bepex RE-15-K7E328 EXTRUCTOR industrial pulverizer machine, engineered with slow speed and high torque for fracturing, crushing, grinding and tearing large frozen blocks or barrels of bulk materials, such as animal products, meats, cheese, fruits and/or vegetables...



FEATURING:
22 inch wide by 24 inch long by 25 inch deep infeed hopper.


15 inch diameter rotor.


22 inch wide stainless steel block lift / chute with 34 inch infeed height, with hydraulic lift cylinder.


25 HP 3 phase chain drive motor.


All sanitary stainless steel product contact surfaces with painted steel frame and gearbox.

As of this writing, this Rietz Bepex EXTRUCTOR is in stock at ALARD, in good mechanical condition, available as-is for immediate shipment without a discharge plate; --OR can be serviced by our shop and completed to buyer specification by our shop for a timely shipment.

CALL 315-589-4511 to confirm availability and discuss your industrial food process cutting, grinding, pulverizing & particle reduction size needs.

ALARD item reference #: Y4174