Automated Packaging Systems
FAS SPRINT Revolution SidePouch
FOOD BAGGER.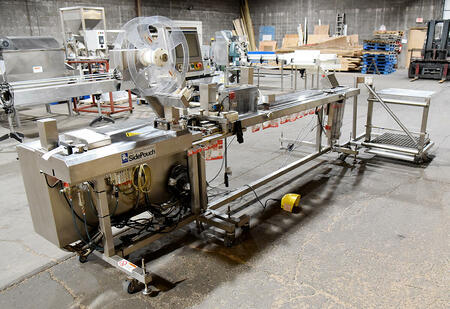 The FAS Sprint Bagger food packaging machine is a bag-filling and sealing machine for pre-made bags. The system can run laminated stand-up pouches with gussted bottoms, or unsupported polyethylene bags on the same machine with no tooling changes, with fast changeover (less than 5 minutes) between different size and pouch formats. Specifically manufacturer recommended for demanding industrial food packaging applications with daily wash-down sanitation requirements.


The pre-made bags / pouches that run on this machine can also have reclosable zippers, resealable flaps, tamper-evident-perforations, and are available in an assortment of materials that can be pre-printed in up to 10 colors with high-resolution graphics, text and bar codes.


OPERATION: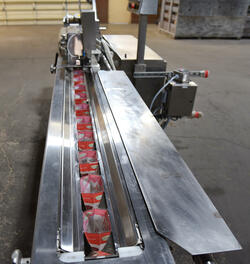 The pouch indexing conveyor loads from a roll of bags or pouches in a box, and presents pre-opened plastic bags or pouches that are staged for immediate loading via a 5 foot long loading area, where packages can be filled by hand or by automatic filling machine (not included).


FEATURES:


"AutoThread" continuous automatic bag feeding and bag opening.


5 foot long packaging filling / loading section.


Coordinated- motion seal-flattener optionally positions bags for smooth-sealing.


Excess trim take up.


On casters for portability.


Allen Bradley Panelview touch-screen operator control panel, with 25 product presets to assist with quick and convenient product change-over.


Continuous, batch, intermittent, and/or foot-switch activation modes.


Accomodates a wide variety of loading methods, automatic infeeds, products and bag sizes.


Manufactuer rated for:



Pre-made bags 2 inch to 24 inches wide by 3 inches to 18.75 inches long


Loading conveyor adjustable from front to back for loading products or stacks of products up to six inches thick.


Bag material 1.5 - 4.0 mil thickness


Speeds up to 900 inches per minute.


The system can be hand loaded with up to three operators, which avoids the need to purchase an expensive infeed device. The ability to hand load is perfect for fragile products, short run or new products where the volume is low or unknown.


The capability to communicate with up to two automatic filling / infeed devices at the same time is a factory-standard feature of the control system.



Manufacturer recommended for frozen and IQF food products; meat, poultry, fish; fresh whole and cut produce; fresh and dried pastas; fresh and frozen snack foods; pet food products, medical, automotive and mail order fulfillment.


AIB and USDA sanitary food grade stainless steel construction.



This machine was manufactured new in 2014 and used on a limited basis for 2 years.

As of this writing, this stand-up pouch filler-sealer system is in stock at Alard, in very good condition, available for immediate shipment.


CALL 315-589-4511 to confirm availability, and to discuss your industrial food packaging machine requirements.



Alard item reference #:Y4016