MAGNETIC CAN DEPALLETIZER,
single high, automatic,
Whallon PD90.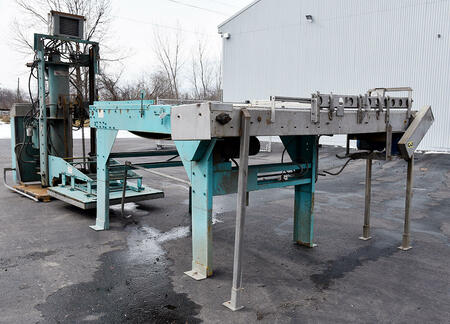 Whallon Machinery has been building magenetic palletizers and depalletizers for over 25 years of servicing the food industry. Whallon magnetic can depalletizers are robustly built and designed to handle various can and pallet sizes. Cans are magnetically lifted from the pallet to the take-away belt and single-filed. Contact between the magnetic head and product layers is controlled by a pressure sensing system...


FEATURES:


50 inch by 50 inch permanent magnetic head.


Mast swivels 90 degrees.


Standard 2.5 cycles per minute per manufacturer's literature.


Single directional 4 foot wide by 9 foot long interlocking plastic belt takeaway conveyor with mechanical variable speed.


18 inch wide by 9 foot long stainless steel single file conveyor with 5 inch high rollers.


Operator control panel with auto / manual switches.


Painted steel construction.


Complete with 5 HP hydraulic pack.


480 volt 3 phase electrical input.



Does not include pallet conveyor.

As of this writing, this single layer can depalletizer is in stock at ALARD, in good condition, available for timely shipment.

CALL 315-589-4511 to confirm availability and discuss your food packaging equipment needs.

ALARD item reference #: Y4161