IMMERSION WASHER / DIP TANK
with ELEVATING DISCHARGE CONVEYOR,
food grade stainless steel...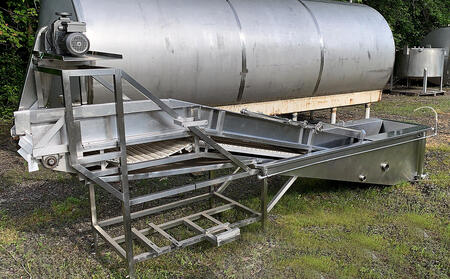 A wash tank with elevating discharge conveyor, for whole or sliced, diced, chopped or otherwise pre-cut fruit & vegetable product washing , rinsing, and / or immersion in preservative or clorinated disinfectant solution as part of a pre-cut produce packing or other industrial food processing and packaging line...


FEATURES:
Stainless steel wash tank measures 9 feet long by 30 inches wide.


Stainless steel elevating discharge conveyor measures 15.5 feet long by 20 inches wide with an interlocking plastic chain type conveyor belt, with 1.25 inch high cleats on 4 inch centers, and 1/8 inch by 5/8 inch openings in the belt to allow for water drainage.


The conveyor can be manually lifted out of the tank to allow access for cleaning and sanitation.


Spray header over conveyor approximately halfway up the incline.


The washer tank has threaded inlet and discharge ports to facilitate plumbing the tank for water movement, to agitate and propel product from the infeed onto the belt.


29 inch infeed height to tank and 24 inch discharge height from the belt conveyor.


All food grade sanitary stainless steel construction.



230/460 volt 3 phase electrical input.

As of this writing, this food grade sterilization solution dip tank / washer is in stock at ALARD, in VERY GOOD condition and available for timely shipment.


CALL 315-589-4511 to confirm availability and discuss your particular food process fruit & vegetable washing and/or sanitizing needs.


ALARD item reference #: Y4218