WASTE-WATER RECLAIM REEL,
food grade stainless steel...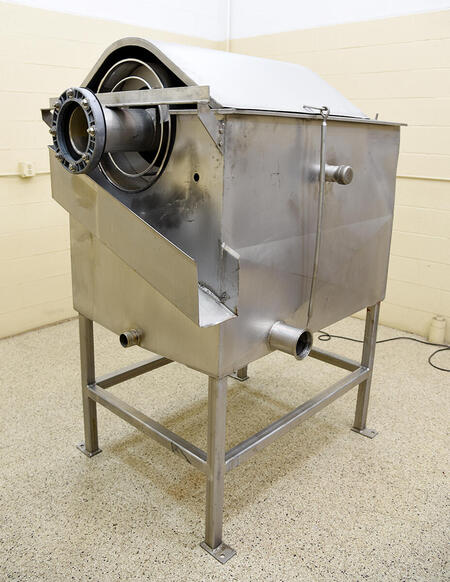 A Key Technology RECLAIM REEL and TANK is an integral part of any hydro-food pumping system, for liquid-solids separation, removing primary waste such as peels, leaves, stems, seeds and other by-products from flume or wash water, for recirculation, reuse, or clean disposal. The food process water recovery reel can also be used as a water reservoir for the pumping system or as part of a flume system. Commonly used as a continuous active water strainer for fresh-cut, fruit, potatoes, root crops, squash and other food process liquid-solids separation applications...



FEATURES:

Manufacturer rated to handle up to 300 gallons per minute.


Single 18 inch by 34 inch long drum with 1/16 inch (2mm) screen perforations, with a 3 inch high internal spiral to provide positive discharge of solids from the scavenger reel.


6 inch pipe infeed to scavenger reel.


36 inch wide by 48 inch long by 24 inch deep tank with 4 inch Tri-clamp outlet.


6 inch wide by 30 inch long solids discharge chute with 2 inch pipe outlet.



All food grade stainless steel construction.

As of this writing, this process water reclamation reel is in stock at ALARD, in very good operational and mechanical condition, available for immediate shipment.

CALL 315-589-4511 to confirm availability and discuss your food process water recovery needs.

ALARD item reference #: Y3937