PEASE 4 CUP APPLE PEELER/CORER,




complete with stainless steel discharge chutes...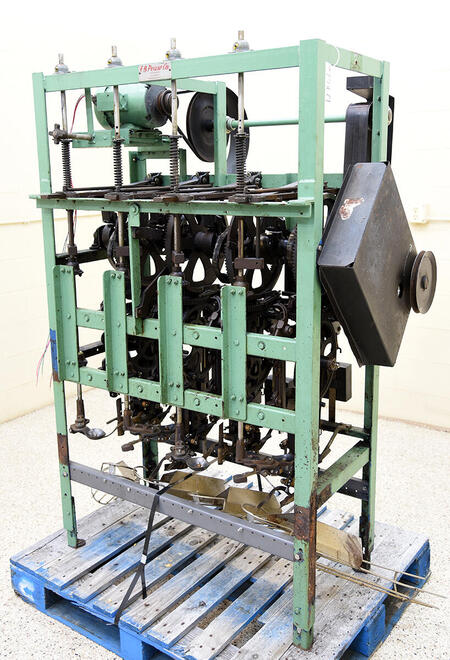 The Pease Apple Parer Corer machine removes the skin and apple core, combining knife peeling and coring operations in one machine. Additional Pease machines (not included) are available for slicing wedge cutting segments for use in pies, and a dip tank for catching the freshly sliced wedge segment cuts in a bath of vitamin C or other preservative solution to prevent oxidation; --call 315-589-4511 to discuss your apple processing application.


Pease apple paring machine OPERATION:

Cups swing out two at a time so apples can be placed in proper orientation (stem-up) by hand in continuous operation / motion. This is a knife peeler-parer where the apple's skin is cut/pared off by knife, and not by abrasive. Cores are also cut out by a coring knife as part of same continuous operation.


FEATURES / CHARCTERISTICS:
Manufacturer rated for peeling and coring approximately 80 apples per minute throughput.





Complete with 1HP 208/230/460 volt 3 phase motor drive.





Stainless steel discharge chutes.





NOTE: The Pease peeler-corer requires a stand to raise the cups to waist / working height, but this is not included as a standard feature because the machine is often mounted, sometimes in conjunction with a catwalk, to feed onto a slicing table (available separately), or to drop into a dip tank (available separately) or on to a takeaway conveyor belt, or in some other configuration that would require a frame specifically suited to position the machine to site / application requirements. Alard can offer a riser stand (separately) at additional cost.

As of this writing, this Pease apple peeling and coring machine is in stock at Alard in very good operational and mechanical condition, available for immediate shipment.

CALL 315-589-4511 to confirm availability, and to discuss your particular requirement for apple fruit processing and packaging equipment...

Alard item reference #:Y4279