Fruit and Vegetable IMMERSION WASHER, SANITIZING DIP TANK,
with ELEVATING DISCHARGE CONVEYOR,
food grade, stainless steel, 18x4...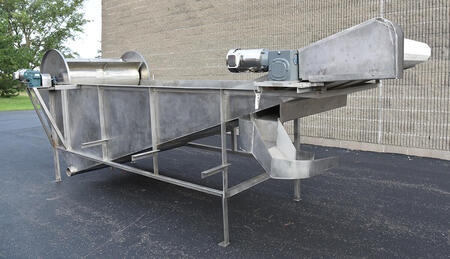 A fruit and vegetable dip tank / immersion wash tank / dip tank for rinsing, washing, sanitizing, applying anti-oxidant vitamins and/or preservative solutions to whole or cut food products in the context of industrial food processing, canning, frozen foods preparation, and/or fresh-cut / pre-cut produce processing and packaging applications.

FEATURES:

18.5 foot long by 47 inches wide by 36 inch deep tapered bottom immersion tank.


Powered 30 inch diameter stainless steel immersion "paddlewheel" to assure all product is submerged.


Hinged expanded metal stainless steel screen covering tank bottom at infeed to prevent product from going under the belt.


Stainless steel spray header under the infeed, just above the screens.


Elevating discharge conveyor, 13 foot 6 inches long with a 46.5 inch wide plastic perforated interlocking chain type belt.


Belt travels between 7 inch high stainless steel sides.


Overflow water catch pan beneath discharge conveyor.


Approximately 7 foot horizontal travel in water.


All food grade stainless steel construction.



Belt drive, and paddle wheel drive are each 2HP 3 phase.

As of this writing, this food grade dip tank, rinser, washer is in stock at Alard, in good condition, available as-is (needs discharge end legs) for immediate shipment , or can be cleaned and completed by our shop prior to a timely shipment.
CALL 315-589-4511 to confirm availability, and to discuss your particular industrial food process washing and sanitizing tank requirements.

Alard item reference #:Y3615