CRYOGENIC FREEZER TUNNEL, CO2 injected,
USDA sanitary food grade stainless steel...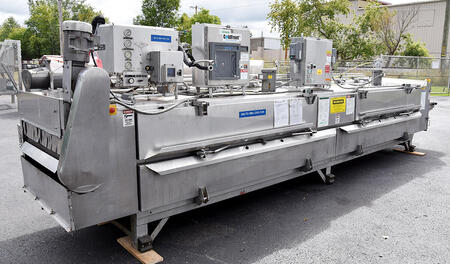 A Praxair Model JE-U4 series ColdFront CryoVantage STRAIGHT TUNNEL FREEZER configured for carbon dioxide (CO2), this continuous belt freeze tunnel ensures quick, yet thorough, freezing of food items while maintaining finished product quality. Manufacturer recommended for a wide range of food products, including meats & poultry, entrees, pizza, baked good, seafood, pasta and assorted fruits & vegetables...

FEATURES:

23 foot long by 40 inch wide woven wire belt with 3/8 inch by 1/2 inch triangular openings to allow for cryogenic gas circulation.


Currently set for approximately 3.5 inch high product clearance through the freeze tunnel.


Eight (8) hinged upper/lower inspection doors for ease of access for clean-out and maintenance.


1 HP conveyor belt drive with variable speed control.


USDA food grade sanitary stainless steel construction.


Complete with safety interlocks. exhaust system, CO2 shut-off, chart recorder and programmable controls.



208/230 volt 3 phase electrical input.

As of this writing, this Praxair JE-U4-1840 CO2 freezer tunnel is in stock at ALARD, in GOOD condition and available for immediate shipment.

CALL 315-589-4511 to confirm availability and discuss your food processing needs.

ALARD item reference #: Y4312