COMMERCIAL CABBAGE CUTTER, 26 INCH,
industrial-capacity food grade stainless steel
vegetable SLICER / SHREDDER / STRIP CUTTER...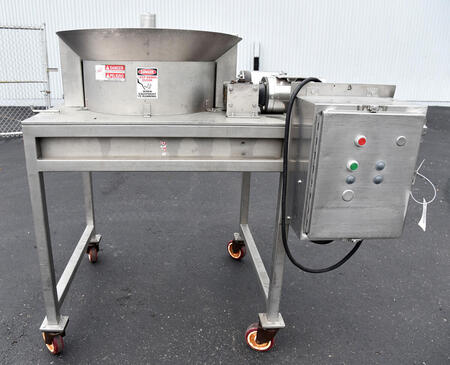 A Commercial Slicer Model 26NS, also known as a "Waterfall" slicer or Kibbey cutter, has long been the mainstay of the coleslaw and sauerkraut industries. Manufacturer recommended for lettuce, cabbage, onions, peppers, cucumbers, potatoes, carrots, tomatoes and celery...




FEATURING:

26 inch diameter aluminum frame cutting disk with stainless steel knives; 100% cutting surface.


Open infeed to easily accept heads of cabbage, lettuce and other whole vegetable products (up to 9 inch diameter).


Manufacturer rated for up to 25,000 pounds per hour, depending on cut size and product.


A range of cutting disk and blade configurations are available for one and two-dimensional cutting (slices, strip cuts, julienne cuts) in thicknesses from 1/32 to 2 inch and up to 5 inch in length. Grater blades are also available for shredding carrots, slaw, onions, and other fresh vegetables. CALL 315-589-4511 to discuss your particular vegetable cutting / cut size specification.


Food grade stainless steel construction, including tubular stainless steel frame, with 60 inch infeed height and 41 inch high discharge.


Complete with two (2) stainless steel shrouded 1.5HP gear motor drives - one for main cutting wheel and the other powers plow.



230/460 volt 3 phase electrical input.

As of this writing, this high-capacity industrial slicing and strip cutting machine is in stock at ALARD, in EXCELLENT condition, available for timely shipment.

CALL 315-589-4511 to confirm availability and discuss your food process fruit and vegatable slicing and strip cutting needs..

ALARD item reference #: Y4328