HEINZEN / HMI
AUTOMATIC CENTRIFUGAL SPIN DRYER SYSTEM
for pre-cut produce processing, dual-spin dryer configuration for continuous operation, with feed hopper and feed conveyors...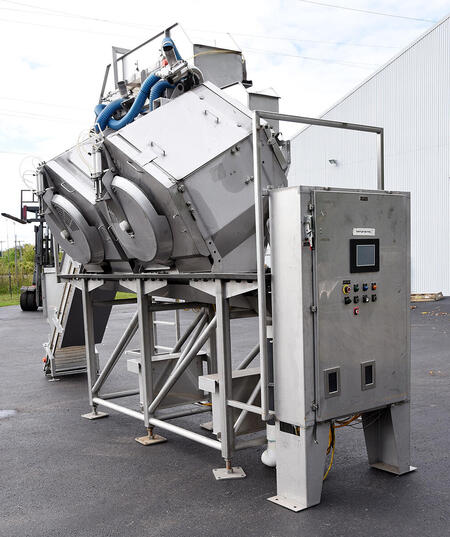 A Heinzen Model AB100-2 Automated Batch Drying System. Automatic centrifugal spin drying system manufacturer recommended for high volume drying of fresh-cut produce products such as iceberg lettuce, spring mix, baby spinach, shredded carrots, cabbage slaw, chopped romaine, other leafy products, etc. Side-by-side twin spin dryer baskets allow for continuous operation, with one spinning while the other unloads / loads. Complete with live bottom belt hopper with elevating feed conveyor...


FEATURES:


Heinzen / HMI stainless steel live-bottom FEED HOPPER 14 feet long by 35 inches wide by 27 inches deep...



Specifically built and configured to front-end the feed conveyor (see below) for the Heinzen automatic dual-spin dryer system.


The hopper tapers to a 21 inch wide by 14 foot horizontal bottom belt conveyor with white food grade rubberized belt.


5 foot infeed height, 34 inch belt working height, on adjustable feet.


Cleanout doors at middle-side and at feed end.


All food grade sanitary stainless steel construction.


1 HP 3 phase drive with stainless steel motor and gearbox.



Heinzen / HMI stainless steel ELEVATING FEED CONVEYOR with 24 inch wide cleated belt...



Specifically built to fit the Heinzen HMI continuous automatic dual spin dryer system with bolt-on foot mounts and custom height-to-fit.


Solid plastic interlocking chain type belt with 2 inch high cleats on 8 inch centers.


Goose-neck configuration with a 15 foot long incline section and 4 foot long horizontal discharge section specifically set to discharge at the height needed to feed the dual-drum automatic spin dryer system; --approximately feeds at a 10 foot discharge height.


All food grade stainless steel constuction.


1 HP 3 phase stainless steel motor and drive.



Heinzen HMI AB-100-2 dual centrifugal spin dryer system for continuous auto batch drying.



Integral bi-directional cross-conveyor infeed, fills one basket while the other is unloading for continuous operation.


The centrifual dryer baskets are each fed though 22 inch wide feed chutes with dimpled, rigidized stainless steel product contact surfaces.


Each of the spin dryer baskets measure 30 inches diameter by 32 inches long with drum 5/32 inch perforations to allow water to escape.


Air-assisted basket infeed and discharge, to help product enter and exit the dryer baskets.


Pnuematic activated 20 inch diameter product discharge doors at 68 inch discharge height, release product from each spinner basket.


Underside drain pans under each dryer.


All food grade sanitary stainless steel construction.


(2) 10 HP spin dryer drives (one for each centrifugal basket), fractional horsepower basket feed conveyor drive, all 3 phase.


Complete with stainless steel operator control panel with PLC controller and variable speed drive controllers.


Factory operator manual included.


As of this writing this continuous automatic cut and leafy vegetable spin dryer system is presently in stock at Alard Equipment in very good condition, available for immediate shipment.
CALL 315-589-4511 to confirm availability, and to discuss your particular fresh produce processing and packaging needs.

Alard item reference #:Y4378