PIPE WASHER / PARTS WASHER / C.O.P. TANK,
all stainless steel...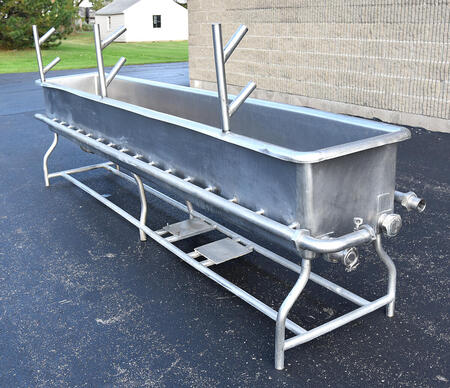 A clean-out-of-place tank for washing tubing, valves, fittings and other food-grade parts in the context of a dairy or other USDA sanitary food processing production line.

FEATURING:

11 foot long by 20 inch wide by 17 inch deep stainless steel tank.


Two (2) 2 inch side headers with sixteen (16) ports.


Two (2) 3 inch diameter threaded outlets.


Includes holder rack for hoses.



All food grade sanitary stainless steel construction.

As of this writing, this clean out of place tank is in stock at ALARD, being sold AS-IS for immediate shipment... -- OR -- ...can be serviced by our shop to include a recirculation pump, with timely shipment.

CALL 315-589-4511 to confirm availability and discuss your sanitation needs.

ALARD item reference#: Y4297