Francis Overall Machine
CARROT TOPPER-TAILER / LENGTH CUTTER...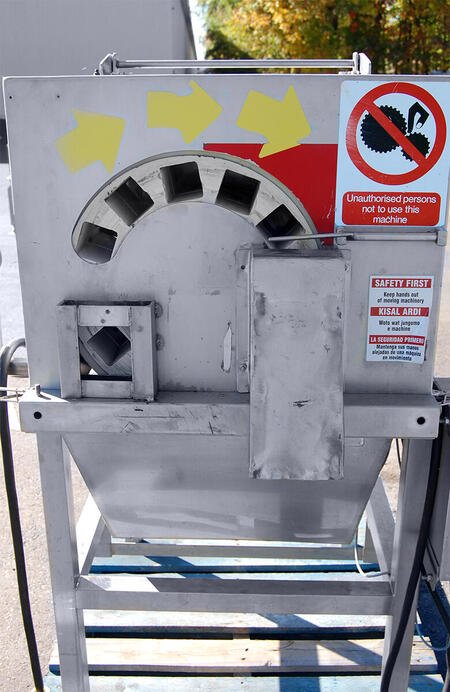 A Francis Overall Carrot Baton machine for continuous trimming, tip & butt cutting, and length-cutting carrots.

OPERATION:

Carrots are manually inserted, top end first, into a vertically mounted carousel wheel.


The wheel jogs into the three (3) circular cutting blades which remove the top end, bottom end and also length cuts the main body of the carrot.



The top end trimming is discharged out the bottom, the tail end of the carrot is discharged out a front discharge chute and the cut lengths are transferred into position to be discharged out a separate front discharge opening via a power ram.
Designed for "topping" and cutting carrots into 3.5 inch long plugs or "batons".


Maximum product size of up to 9.5 to 10 inch long by 2 inch diameter.


Semi-automatic with manual feed.



All stainless steel frame / shroud construction.

As of this writing, this carrot trimmer / increment cutter is in stock at ALARD in GOOD OPERATING condition, available for timely shipment.

CALL 315-589-4511 to confirm availability and discuss your carrot processing needs.

ALARD item reference #: Y2012