FITZPATRICK Model D Comminutor,
food grade stainless steel hammermill
for controlled particle size reduction...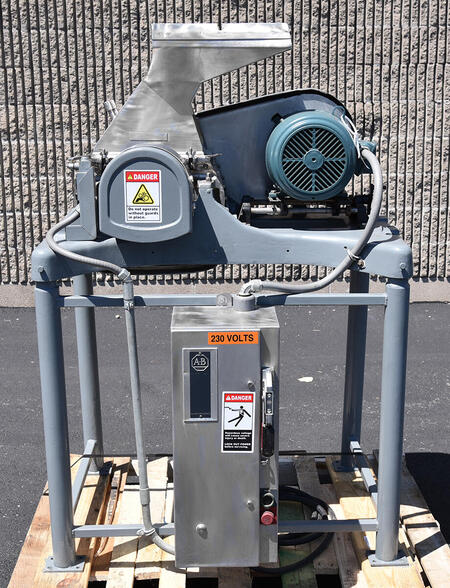 The Fitzpatrick D6 comminuting machine is an industrial impact mill for particle size reduction in hammer milling applications, for industrial food processing and other commercial-grade production environments.



FEATURES:


Hopper infeed with 13 inch by 10 inch opening.


Configured with knife-edge stainless steel blades on 0.75 inch spacings. Blunt-edged or reversible edge blades are also available. CALL 315-589-4511 to discuss your particular grinding, chopping, pulverizing need.


Came without a screen; --interchangeable bottom screen(s) are available to buyer specification. CALL 315-589-4511 to discuss your cutting, milling, grating or other particle size reduction specifications.


Food grade stainless steel product contact surfaces.


Heavy duty painted steel support frame.


59 inch infeed height, 34 inch discharge height as configured.


Stainless steel operator control panel with safety interlock system, and safety lockout.



5 HP belt drive high-efficiency motor.

As of this writing, this Fitzpatrick Model D grinder, chopper, pulverizer mill is in stock at ALARD, in EXCELLENT operational, mechanical, electrical & cosmetic condition, and available for timely shipment.

CALL 315-589-4511 to confirm current availability, and to discuss your particular food process milling and / or cutting machine requirements.

ALARD item reference #: Y3847