PLATE and BAG JUICE PRESS,
hydraulic, stainless steel,
pilot plant / lab-size...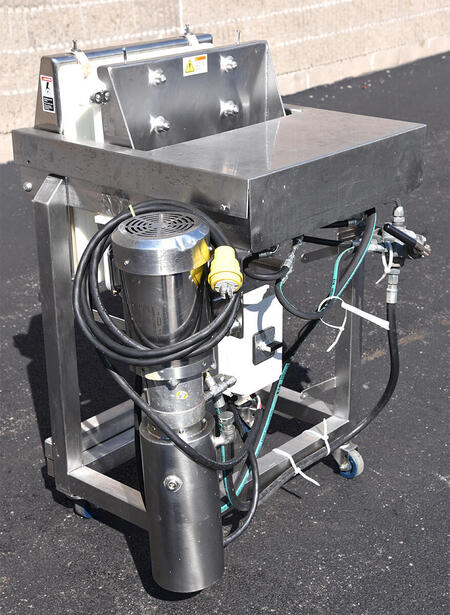 A Pressed Right Model PR-25-NS COLD PRESS JUICER for cold pressing fruit and vegetable juices such as apple, grape, citrus, leafy greens, almonds & other nuts, beets, celery, herbs plus a multitude of other fruits & vegetables. Practically idenntical to the Goodnature model X-1 juicer, this is an entry-level / lab size industrial press for small-batch producers and/or for pilot plants or R & D use in testing and scaling up to higher volumes.


FEATURES...


Manufacturer rated for up to 30 gallons per hour.


Press plates measure 19.5 inch by 19.5 inch each.


All hygienic stainless steel construction.


Conforms to NSF/ANSI 8 food protection and sanitation requirements.


Includes a self-contained / onboard hydraulic system with 3 gallon reservoir.


1 HP stainless steel washdown drive motor.


Operator controls with ON/OFF box.


230/460 volt 3 phase electrical input; --NOTE: single phase electrical input setup is available; --call 315-589-4511 to discuss your juice press needs.



As of this writing, this hydraulic juice press is in stock at ALARD, in VERY good operational, mechanical and hydraulic condition, available for timely shipment.

CALL 315-589-4511 to confirm availability and discuss your food processing needs.

ALARD item reference #: Y4051