Urschel
COMITROL PROCESSOR Model 1700,
15HP, with slicing head...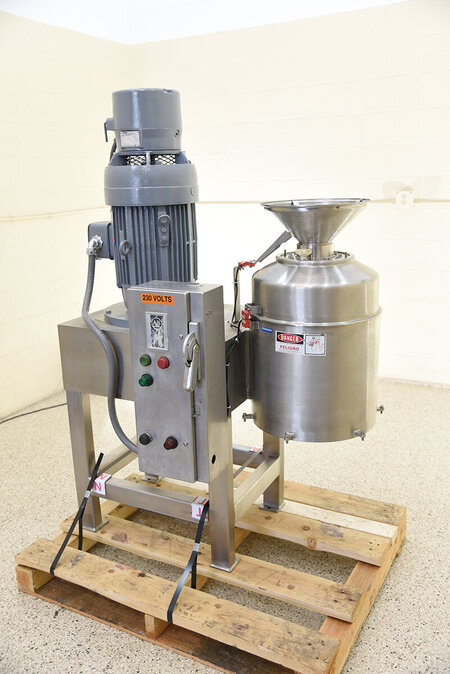 The Urschel Comitrol 1700 continuous food grade milling machine is manufacturer recommended (with cutting parts specific to applciaiton) for particle size reduction of free-flowing products for fruit & vegetable purees, slurries, pastes, pate, mustard, peanut butter, ketchup, baby food, horseradish, dressings, textured vegetable protein, gels, ointments, creams, liquefying, dispersing, emulsifying, etc.


FEATURES:
Cone hopper infeed, with safety grid in hopper.


Set with 30 paddle impeller and 11 blade adjustable SLICE head.


Manufacturer literature indicates the adjustable slicing head cuts a range from .02 inch inch (.5mm) to .060 inch (1.5mm).


Per manufacturer literature, maximum product input size is determined by the type of cutting head, the impeller used, and spacing within the head, but maximum input size for the slicing head configuration is 3/8 inch (9.5mm) in any dimension.


A wide selection of slice heads, impellers, and other change parts are available for this machine to accommodate a variety of products and cuts. CALL 315-589-4511 do discuss your particular food process particle size reduction application.


Grease bearings for smooth operation of high-speed cutting head.


Continuous operation for uninterrupted production.


Simplified design for ease of cleaning and maintenance.


Gasketed PVC electrical control with safety interlock system.


Food grade sanitary stainless steel construction including support frame.


15HP drive with brakemotor.


230 volt 3 phase electrical input to control panel.

As of this writing, this Urschel mill is in stock at ALARD, in EXCELLENT operational, mechanical, electrical & cosmetic condition, available for immediate shipment.

CALL 315-589-4511 to confirm availability and discuss your food process cutting, slicing, and milling machine needs.

ALARD item reference #: Y3873