ARPAC Model 105-28TW
TRAY WRAPPER / HEAT SHRINK BUNDLER...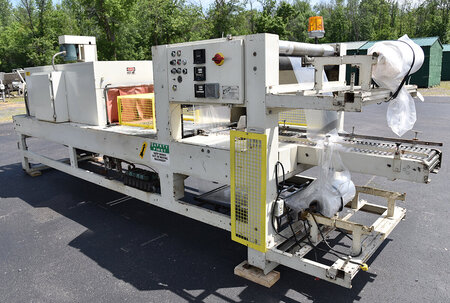 An ARPAC Model 105-28TW / 105 series continuous motion shrink bundler. As trays of containers or other bundles proceed through this machine they are wrapped around their wide sides, then run thru the heat tunnel to shrink the plastic tightly around the trays / bundles, leaving "bulls eye" openings in the plastic wrapping on each (narrow) end. Manufacturer recommended for trays of cans, jars, bottles, trayed boxes, single-tier or stacked, and unitized boxes.

FEATURES:


Manufacturer rated for up to 28 trays per minute throughput capacity.


Dual top and bottom film roll spools.


Wrapper / bindler section has 14 inch wide by 72 inch long roller bed thru-conveyor.


28 inch seal bar with 11 inch maximum clearance.


Heat shrink tunnel has a 28 inch wide by 15 inch high opening, 22 inch wide heat resistant rubberized belt thru conveyor, one (1) intreior heat circulation fan, one (1) exterior cooling fan and mechanical cariable speed conveyor drive.


Painted steel construction.


575 volt 3 phase electrical input.

As of this writing, this tray wrapper with heat tunnel is in stock at ALARD, in GOOD condition and available for immediate shipment.

CALL 315-589-4511 to confirm availability and discuss your food packaging needs.

ALARD item reference #: Y4032