HOT WATER ROTARY BLANCHER,
6 x 4, stainless steel...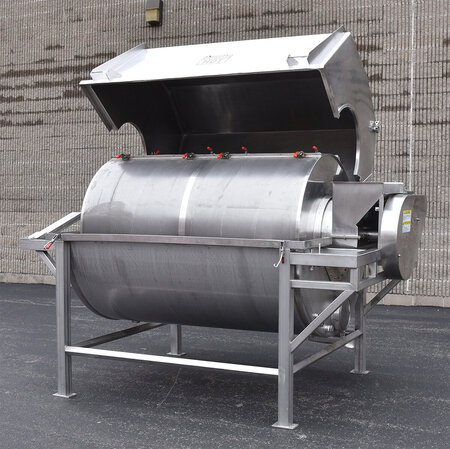 An A.K. Robins Model AK-48-6, all USDA stainless steel rotary drum blancher for vegetables, pasta, dry beans, pet foods, and a variety of products in an industrial food processing and production line context...


FEATURING:


48 inch (4 foot) diameter by 6 foot long stainless steel blancher reel.


1/8 inch screen perforations in rotary blanching drum with removable screen panels for sanitation.


Hinged, counterweighted top cover.


60 inch infeed height.


Overflow discharge to dimpled discharge chute with 31 inch discharge height.


USDA food grade sanitary stainless steel construction.



2HP drive motor, 208/230/460 volt 3 phase electrical input.

As of this writing, this hot water rotary blanching machine is in stock at ALARD, in EXCELLENT operational, mechanical, electrical & cosmetic condition, available for immediate shipment.
CALL 315-589-4511 to confirm availability, and to discuss your particular industrial food process cooking and blanching equipment needs.

ALARD item reference #: Y4212