HYCOR ROTOSTRAINER model RSA-2524
ROTARY DRUM SCREEN
for liquid / solids separation, food grade stainless steel...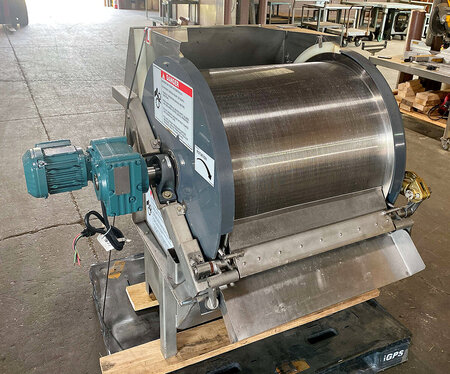 An externally-fed rotary wedgewire screen, self-cleaning rotating drum screener, for separating liquids and solids, such as product recovery, wastewater recovery, dewatering and/or solids separation in industrial food processing and other insustrial-process applications.



OPERATING PRINCIPLE:


Unfiltered liquids are fed via an 8 inch diameter inlet into a head tank which directs the liquid / solid slurry onto the outside of the 25 inch diameter by 24 inch long wedgewire strainer reel which has .020 inch sieve openings.


The self-cleaning strainer drum cylinder rotates so that any solids which stick to the outside of the drum are scraped off by a stainless steel doctor blade and drop off the edge.


Meantime, the liquid is filtered through the wedgewire sieve screen and discharges through a 10 inch diameter outlet reduced down to 4 inch flange connection.



Additional screen clearing action is provided by a stainless steel spray header running through the center of the wedge-wire cylinder.


FEATURING:


Food grade stainless steel construction including stainless steel screener drum, cabinet and support frame.


1/3HP drive turns the rotary screen reel.



208 / 230 / 460 volt 3 phase electrical input.

As of this writing, this self-cleaning wedgewire screen is in stock at ALARD, in EXCELLENT operational condition, available for immediate shipment.

CALL 315-589-4511 to confirm availability and discuss your waste water recovery needs.

ALARD item reference #: Y4657