Groen CapKold Cook-Chill KETTLE, 100 gallon, STEAM JACKETED,
with inclined SINGLE MOTION SCRAPER-AGITATOR,
Groen model INA/2-100...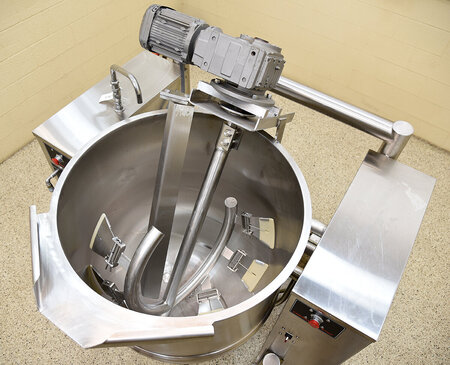 A 100 gallon capacity cooker-cooler kettle, with INA / incline scrape-surface agitation, with both sanitary center bottom outlet AND power tilt-to-dump discharge to provide gentle yet thorough cooking, cooling, and mixing for a wide variety of products...


FEATURES:


33.5 inch diameter by 36 inch deep hemispherical bottom vessel with 3 inch center bottom outlet, and 8 inch wide pour lip.


Sanitary flush-mounted discharge valve, pneumatic actuated, with 3 inch diameter threaded connection.


Equipped with motorized tilt to dump action.


INCLINED AGITATOR -- angled "INA" single motion scrape-surface mixer which can be easily removed for sanitation.


Steam jacketed, manufacturer tagged for 100 psi @ 338F, National Board Coded and ASME stamped.


54 inch infeed height.


Emergency STOP switches located on either side of kettle for added safety.


Rim mounted water fill faucet.


All food grade sanitary stainless steel construction with T316 stainless steel product contact surfaces, and 304 stainless steel non-wetted surfaces, including stand and floor mount flanges.


208/230 volt 3-phase electrical input, with front-end auxiliary electrical outlet; --for power a pump or fill station (not included).



1 cfm @ 80 - 90 psi compressed air requirement.

As of this writing, this Groen 100 gallon cooking-cooling kettle is in stock at ALARD, in EXCELLENT operational, mechanical, electrical & cosmetic condition, available for immediate shipment.

CALL 315-589-4511 to confirm availability and discuss your food processing needs.

ALARD item reference #: Y4353