Safeline METAL DETECTOR, 25x10 opening
with conveyor belt...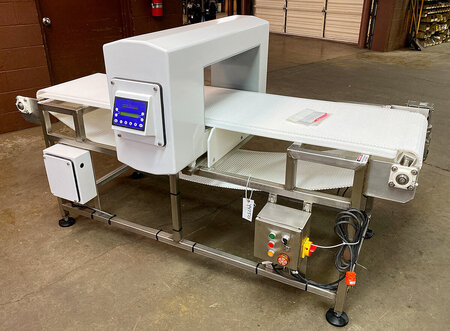 A refurbished Safeline large-opening food grade industrial process metal detector on a NEW washdown stainless steel belt transfer through-conveyor, with reject system, for food processing and packaging, and / or other applications where detection of metal contamination is desire...


FEATURES:


25 inch wide by 10 inch high USABLE aperture opening with the conveyor belt in place, overall opening hight is 11.5 inches without the conveyor bed).


NEW 84 inch long by 24 inch wide conveyor, with interlocking plastic chain type belt.



Conveyor and search head are integrated with a belt-stop-alarm reject system.


The conveyor bed runs at a 32 inch working height with +/- 2 inch adjustable feet.


Includes variable speed control for the conveyor belt.



Epoxy painted metal detection head enclosure with new poured-epoxy sealed waterproof pass-through chute.



Complete with integral digital touchpad controls with multiple product presets.



Metal Detector and conveyor are configured for light washdown.



110 volt single phase (standfard household current) electrical input.

AS of this writing, this food process metal detection system is IN stock at Alard. The Safeline metal detector head is in EXCELLENT operational, electrical, mechanical, and cosmetic condition, and the conveyor is new.

CALL 315-589-4511 to confirm availability, and to discuss your industrial process metal detector need.


Alard item reference #: Y4750