SPRIAL VEGETABLE CUTTER...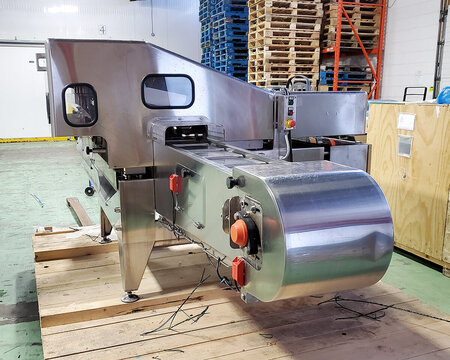 TURATTI Streamer automatic spiralizer high-capacity cutter. Designed to produce spiral ribbon cuts, vegetable noodles, korean carrot salad cuts, and other glueten-free pasta cuts from a wide variety of vegetables such as carrots, zucchini, squash, cucumbers and even broccoli stalks.


FEATURES:


Manual loading belt conveyor.


4 automatic spiral-cutting heads with but trimming and core separation.


Cutting head configured for product up to 65mm (2.5 inches) in diameter.


Continuous, operation ideal for uniform cuts in high-capacity industrial production of pre-cut produce and fresh-cut product.



Food grade sanitary stainless steel construction.

As of this writing, this industrial capacity continuous spiral vegetable cutter is in transit to Alard Equipment Corp and is reportedly in very good to excellent operational and mechanical condition.

CALL 315-589-4511 to confirm availability, and to discuss your particular food equipment needs.

Alard Reference #:Y4827