RECONDITIONED SPIN DRYER, Bock Model FP-90.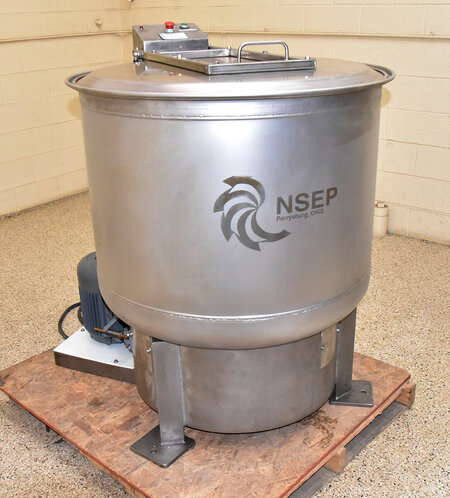 The North Star Engineered Products (NSEP) Bock FP-90 Centrifuge is a food grade stainless steel centrifugal drying machine for drying washed fruits and vegetables, including leafy vegetables, whole or cut, in the context of an industrial pre-cut produce packing operation.


FEATURES:


7.36 cubic foot removable basket which measures 30 inches in diameter by 18 inches deep; with a 23 inch top opening.


Manufacturer rated 130 lb (dry weight) batch capacity, and up to 1,950 lbs of product per hour.


Food grade stainless steel product contacts including basket, tank, and base, with painted steel legs.


Lid-opening assist cylinders (new).


Includes (new) operator controls with 10 minute settable timer, and safety interlock system. Machine won't start with lid open, lid locks during spin cycle.


Durable hydraulic transmission.


Pneumatic brake.



5HP 230/460 volt 3 phase motor..

As of this writing, this REFURBISHED BOCK FP90 spinner is in stock at Alard, in EXCELLENT operational, electrical, mechanical and cosmetic condition, ready to go and available for immediate shipment.


CALL 315-589-4511 to confirm availability, and to discuss your particular fresh-cut / pre-cut produce packing equipment needs.


Alard item reference #:Y4064