KEY / FARMCO SSR ROLLER GRADER,
food grade, stainless steel...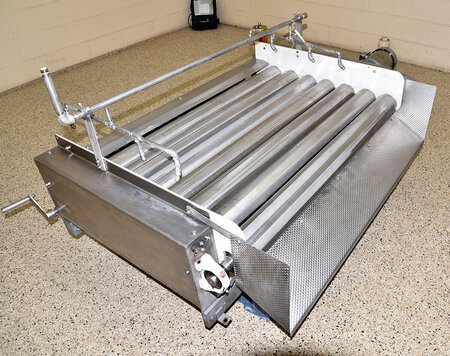 The Farmco Key model SSR sizer, sliver-remover, is manufacturer recommended to transfer and classify product efficiently while removing field debris, broken pieces, seeds, juice, fines,slivers, chips, and other targeted material. Features on-the-fly tuning / size-adjustment for precision sizing and grading; dejuicing and deseeding; and removing debris. Operates efficiently for both small whole products and pieces such as cubes, dices, slices, wedges, fries, spears, sticks, and julienne strips...


FEATURES:

Smooth infeed pan.



Seven (7) 5-inch diameter stainless steel rolls.



Roller bed measures 48 inch wide by 36 inch long.



Sieve range of approximately 1/8 inch to 1/2" inch.



Manual crank adjustment of sieve for sieve size adjustment on the fly.



Overhead spray nozzles on both sides of bed.



8 inch long dimpled discharge pan.



Equipped with an automatic oiler.



All food grade sanitary stainless steel construction.



460 volt 3 phase electrical input.


As of this writing, this Roller Grader is in stock at ALARD, in EXCELLENT condition, available for immediate shipment.


CALL 315-589-4511 to confirm availability, and to discuss the details of your particular food product grading equipment needs.


ALARD item reference #: Y4604