FRUIT and VEGETABLE TUMBLE WASH REEL / DEWATERING DRUM,
food grade, stainless steel...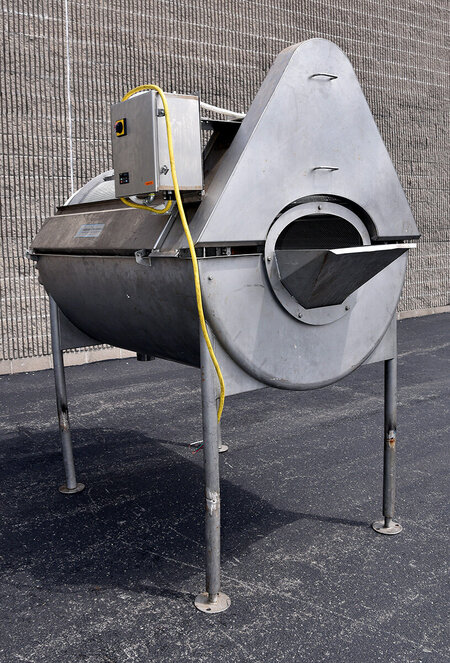 A Vanmark Rotary Washer / drum washer / reel washer, screening reel, for dewatering, size grading, fines removal, scalping, and washing of root crop vegetables, and/or solids separation and water recovery from sliced, diced, or fresh-cut / pre-cut food products such as beets, carrots, cucumbers, horseradish, potatoes, peppers, radishes and more...


FEATURES:

36 inch diameter by 66 inch long washer reel.


Wire mesh reel with 1/4 inch diameter wire and 3/16 inch square openings.


Four (4) 2 inch high flights inside of the reel to promote product tumbling.


Suitable for use as a DRY DIRT REEL or WASH REEL -- equipped with spray bar for washing / rinsing application.


Product feed chute.


Full bottom tank.


Food grade sanitary stainless steel construction.


Stainless steel control box with variable speed controller.


Top mounted chain drive 3/4 HP stainless steel motor.



208 / 230 volt 3 phase electrical input.

As of this writing, this tumble washer is in stock at ALARD, in EXCELLENT operational, mechanical, electrical & cosmetic condition and available for timely shipment.

CALL 315-589-4511 to confirm availability and discuss your particular root crop washing equipment needs.

ALARD item reference #: Y4646