PLASTIC BASKET SPIN DRYER,
32 gallon basket, up to 75 lbs capacity,
food grade stainless steel...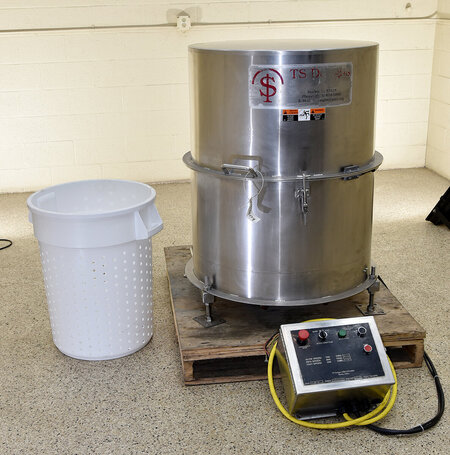 TS Designs ISO-Dryer SPIN DRYER for industrial fresh-cut and pre-cut produce processing and packaging lines. This food grade stainless steel centrifugal dryer is an essential component of any fruit or vegetable cut, wash and dry production process.


FEATURES:


Comes with one white Rubbermaid Brute type 32 gallon plastic basket so it can be loaded and unloaded by hand, withOUT neccesity of overhead winch. Baskets are available new in a variety of colors and perforation sizes; --Call 315-589-4511 for pricing to your specification.


Gas assist lid.


Stainless steel shrouded motor.


Stainless steel control box with safety interlock system, speed selector, start, stop and emergency stop.



Food grade sanitary stainless steel construction.

As of this writing, this plastic basket centrifugal drying system is in stock at Alard Equipment Corp in EXCELLENT operational, mechanical, electrical and cosmetic condition, available for immediate shipment.

CALL 315-589-4511 to confirm availability, and to discuss your particular fresh-cut food equipment needs.


Alard item reference #: Y4809