CORNELL 4 inch FOOD PUMP
with FEED TANK and DRIVE...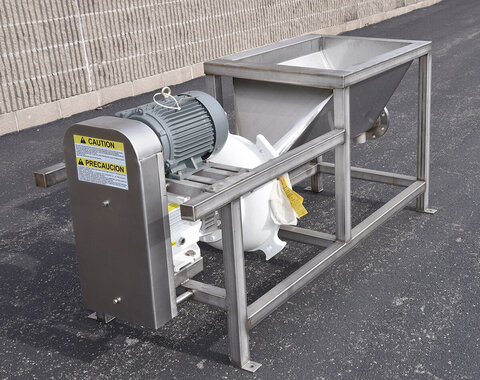 A Cornell Model 4NMPP-F5K hydro transport food pump coupled with a stainless steel vortex product in-feed tank, and a 5 HP motor, with 4 inch inlet and outlet connections. This "flume kit" configuration is an excellent foundation for a pipe flume, open flume, wash flume, chill flume, disinfectant bath, or other water conveyor configuration for gently conveying high volumes of whole or cut food products in water at tons-per-hour volume capacities.


FEATURES:


Manufacturer rated for:



Approximately 100 to 800 gallons per minute depending on RPM and head resistance (pump curves available on request, call 315-589-4511), with whole or cut food product / solids handling ability for up to 2.94 inches (74.7mm)in diameter by 4 inches (171.6mm) long.


Designed and manufactured with the sole purpose of pumping food products. Ideal for agricultural applications such as fruit washing and packing as well as food manufacturing operations such as whole or cut food product conveying, cooling and / or sanitization in water applications.


"PP" model indicates that this is Cornell's patented "expanded volute" model which provides the gentlest product handling in their line e.g. for delicate food products.


This offset expanded volute pump is manufacturer recommended as capable of gently conveying-in-water whole or cut food products including potatoes, French fries, potato chips, live fish, cranberries, carrots, apples, cherries, peas, broccoli, crayfish, shrimp, lettuce, green beans, nuts, peppers, olives, cucumbers, raisins, beans, corn, peaches, beets, oranges, and more (larger products may require a larger pump;--see size specification of this specific pump above). Please note we stock several sizes of Cornell food pump; call 315-589-4511 to discuss your food product water transport need in detail.



Single port 304 stainless steel pump impeller for handling whole or processed foods.


Epoxy painted ductile iron food process pump volute.


The Cornell food pump has 4 inch flanged suction inlet and discharge outlet connections appropriate for a 4 inch water pipeline.


The stainless steel product feed tank is 42 inches long by 32 inches wide by 21 inches deep; with a 2 inch bottom sanitation drain, with valve, for cleaning.


35 inch tank infeed height.


Bolted flange connection between vortex tank and pump.


Food pump, tank, and drive mounted together on a common tubular stainless steel frame.


All food grade pump, tank and frame.


5 horsepower belt and pulley drive, 208/230/460 volt 3 phase electrical input.



The hydro transfer food pump is NEW with a two-year manufacturer warranty.

The Cornell hydro transport food pump is frequently employed to power open stainless steel flume systems, while others pump into a closed pipe flume which they run in a coil pattern on the ceiling to conserve floor space. The flumes provide hold time to remove heat, and extend exposure to the water, which usually includes either a sanitizing agent, or a preservative solution such as vitamin C; depending on the product. The power of the Cornell Hydro-Transport pump allows food producers to deliver their now chilled and treated ingredients to any point in the plant where they want to dry, mix and pack the final product.

Others use the chill flume for pre-cooling blanched (very lightly cooked to kill the active enzymes) food products in water prior to running them through an IQFfreeze tunnel. Others use the flume system just to convey product in water.

In every case, the powerful Cornell pump can gently move high tons-per-hour output to wherever it needs to go in the plant.

Alard also stocks and handles various kinds of dewatering, solids-separation, water recovery and filtration equipment to recover the food product from the pump water, and to recapture, treat and recirculate the water as necessary, as well as drying and packaging equipment to complete the process; all tailored to the end-user's specific food product(s) and application.

With Cornell's large range of hydro-transport pump size and material configurations, and with Alard's ability to configure and "gear" the pump to the buyer's specific needs, Alard's Cornell Hydro-Transport based flume kits are a superb tool for a wide variety of industrial food processing applications.


As of this writing, this hydro transport food pump is in stock at Alard; --new, fully assembled and available for immediate shipment.

CALL 315-589-4511 to confirm current availability, and to discuss your particular food process bulk product conveying, chilling, cooling, sanitizing and pumping equipment needs.

Alard item reference #:Y3765