Refurbished URSCHEL Model J-A DICER / STRIP CUTTER
meat cube cutter, greens chopper, crouton cutter...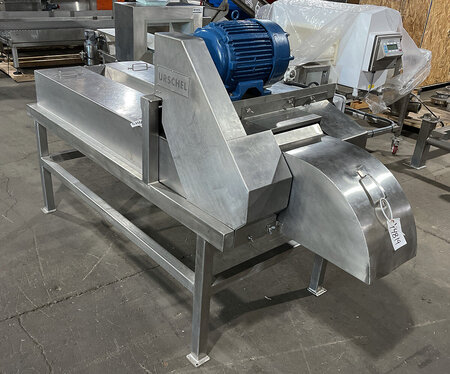 The Urschel J-A DICER is a belt fed two-dimensional cutting machine for industrial food processing applications, manufacturer recommended for food products up to 1/2 inch (13mm) thick at infeed, such as spinach & greens, peppers, citrus peel, celery, broccoli, bread (e.g. croutons), brownies, parsley, frozen tempered meats and more.

Manufacturer literature specifies this model for cutting square or rectangular dices:
Firm products can be fed through the machine up to 3/8 inch (9.5mm) thick with standard parts, 1/2 inch (12.7mm) thick firm products with a special optional feed drum, and this model can accept thicker products depending on the product's degree of compressibility. CALL 315-589-4511 to discuss your specific industrial food process cutting specification.


Circular knives can be spaced for cuts from 3/16 inch (4.8mm) to 2 inches (51mm).



Strip cuts can be made by removing the crosscut knife spindle from the machine, with the length and thickness of the strips depending on the size of the original product.

This machine features:
6 inch (152.4mm) wide feed belt and cutting spindles.


Most standard cut sizes are available -- CALL 315-589-4511 to discuss YOUR industrial food process cutting specification.


Aftermarket safety interlock system with fiberglass NEMA 4 control box.


Food grade sanitary stainless steel product contact surfaces, guards, shrouds & tubular support frame.


5HP drive motor.



208/230 volt 3 phase electrical input.

As of this writing, this reconditioned Urschel J-A dicer / strip cutter / greens chopper is in stock as ALARD, in EXCELLENT operational, mechanical, electrical & cosmetic condition, needing only to be fitted with selected cutting spindles prior to shipment.
CALL 315-589-4511 to confirm availability, and to discuss your particular food equipment needs.

ALARD item reference #: Y4819